Rott Interview
Tony Cannella of Metal Maidens chats with Vocalist of Rott
Barking Dogs Seldom Bite...
ROTT are a band out of Idaho. Their debut CD is titled "Out Of Time" and it is available via Renaissance records. I don't mind telling you, that this CD has been in heavy rotation in my personal play-list. "Out Of Time" features eleven songs worth of well crafted, emotional and hauntingly beautiful music. Recently, I caught up with lead singer Molly Sirenne and she was kind enough to give me the low-down on what is happening with ROTT. Without further Adieu, this is what she had to say...
First of all, please tell us about the formation of ROTT….
Molly Sirenne: "ROTT was formed in 2002 completely. Dan, our guitarist was the driving force behind the formation actually. He was working a day job with the bassist and rhythm guitar player. He actually taught our rhythm guitar player how to play and they would jam together just for fun. Then the drummer answered an ad in a local paper and I auditioned too and was selected, thankfully. We mostly played local clubs around the Spokane, Washington area and released a self-titled demo in 2002. That became the initial line-up."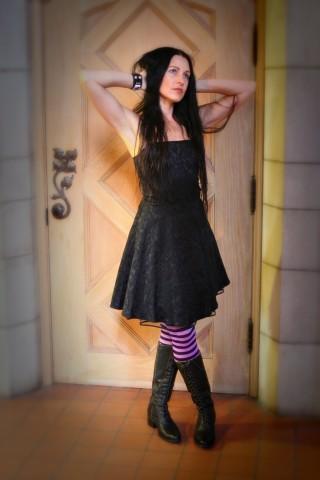 Could you please introduce the other band members to us?
Molly: "Michael "Mikeee" McGill and Aaron Birdsall were both session musicians on "Out Of Time" and the "Afterlife" single, released prior in May 2007. Mikeee moved out of the area to become a pilot and we have his promise he will be flying our Lear Jet, when we get one. Aaron has a great blues band, called BLACK & TANN and runs the studio we recorded in. ROTT's current line-up consists of three members. Carrie Anne is on keys and backing vocals, Dan on guitar and me on vocals. We use session players for live shows currently on bass and drums."
Please tell us a little bit about your new album "Out Of Time"….
Molly: "Out Of Time" is our first release (other than our demo), and our pride and joy. It's a variety of songs ranging from melodic and dark to heavy and pulsating. There are songs like "Brightest Star" that are more radio friendly I suppose and other songs that only truly gothic and alternative fans would gravitate towards. Our reviews have been very kind and positive and I am quite flattered and very grateful in fact. Some comment that we're finding our style, but really it is more of a challenge and a lot more fun to not have a certain style. Instead, it is kind of cool to have the songs different enough to stand alone in their uniqueness."
For those who haven't heard it, how would you describe the music on "Out Of Time"?
Molly: "Well, I would describe the music as edgy and melodic with a vocal style that has a diverse range between innocence and seduction. It is a heavy edge too, not candy coated by any means. Lyrically, the songs talk about topics like biblical apocalypse as in "Mysteries", while "Afterlife" has more of a theme about compassion versus the alternatives. "Tortured Souls" denounces child abuse and "Brightest Star" is about how shallow people, who didn't quite believe in your potential see, that you have 'made it' and now think you are great. I think mostly relationships and looking at things from different perspectives and viewpoints and reflecting on how that affects others."
Who came up with the name ROTT and why did you decide on this name?
Molly: "I came up with the name after we kicked around a few ideas looking for something that sounded kinda cool, but was heavy too. ROTT sounded like something that was decaying and it was short. Also, we can say ROTT on, instead of rock on or right on. There is a hidden meaning to it as well, an acronym for what the letters stand for. Besides, my favorite breed of dogs is Rottweilers and I have a beautiful female as our mascot, so that influenced it a little too (laughs)."
You recently signed to Renaissance records. How did that come about?
Molly: "Well, there were a lot of contributing factors, but they all converged and revolved around our management Ravenheart Music in the UK. Dave Smith found out about us on MySpace after checking out our album on CD Baby, that we had released independently. I am very blessed that he emailed me and we became good friends. We were approached by the label and really I think it had to do with the buzz created in Europe with some great reviews and in particular being featured prominently on Ravenheart Music's website. I am sure, there are other things I do not know about as far as people who helped, but I have a pretty good idea and I will be thanking them in person, trust me. Believe it or not, we never had to solicit for attention. Reviews and interviews were coming in and people were asking us to send them CDs. I am very happy since that was a lot more fun than sending out press kits and not hearing back from places."
Have you played many shows?
Molly: 'We've played quite a few with our original line-up. Since releasing "Out Of Time", we have been offered to play some shows, but the pieces did not fall into place for the timing. Now things are moving along very rapidly and we will be gearing up for some shows in the Fall of 2008. We have a bass player in France, so it will be in Europe undoubtedly. We still have to nail down a drummer for the live shows, so I am hoping we find a nice person that will audition for us either here or overseas. We will hire them before we leave. I have a friend lined up to play a kick ass show for Coeur d'Alene, Idaho and Spokane, Washington to start the tour. A great friend, Lang Sumner, also runs a club locally, called The Grail, which is a really fun venue we've played before."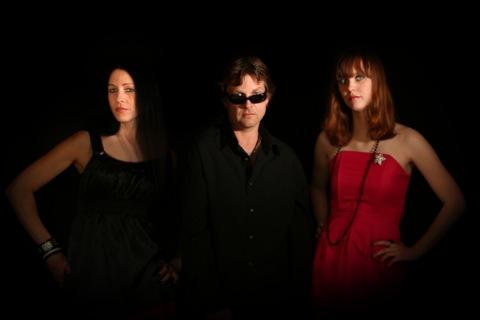 What can people expect when they come see ROTT live?
Molly: "Well, "Mysteries" is the first song on the setlist. Imagine the look of a cathedral with mist rolling across the stage right after the blue light shines on the silhouette of a Rottweiler, that I am next to in a hooded cape. It is a ROTT show after all. Of course I may have to borrow one of my friend's rotts in Italy or Germany depending on logistics. It will be about the experience. I realize how hard the fans work for their money. When you come to a ROTT show expect to be taken into an alternate reality. This reality of life can be harsh and it is fun to escape sometimes. We'll be playing with bands of a similar genre so if you enjoy castles, dancing with abandonment, head banging-fist in the air excitement and strong female vocals with brutal guitar riffs you will have a fun experience!"
One thing I really like about the band are the lyrics. Who comes up with them and where do you draw inspiration?
Molly: "Thank you! I love it, when people are listening closely. Dan and I write all the lyrics although he comes up with the lions share and I polish them afterwards. Inspiration comes from observing things and listening to the fans and people we meet as well as events going on around us. I suppose on a larger scale it is an energy that flows through us, which we then try and put out there through the lyrics."
Are you already working on new music and when can we expect something new from ROTT?
Molly: "We are working on new material presently. So far what is written we are putting the final touches on and then we will refine it from there to get the right flow between the chorus passages and transitions among the tracks. Ultimately, I would like to get into the studio and see how things start coming together for a release in early 2009. I am also thinking it may be fun to have a guest on a track singing with me, which will be cool. I plan on contributing to a project I have been honored to be invited to sing on also. I am blown away by bands like NIGHTWISH, that have fifteen tracks and more on a CD. Some of the timeline depends on how busy we will be with touring as well."
Any ideas yet what the new music will sound like or is it still to soon to tell?
Molly: "It is pretty early, but we have a bigger budget so that is exciting. We will incorporate some different elements musically this time to add to the intensity."
Aside from "Out Of Time", does ROTT have any other music that is available?
Molly: "Well unfortunately no. We retired the demo and it is now out of press. We still may surprise some fans at shows with some of our earlier songs however. I am pretty spontaneous like that from time to time. For any of you out there, who have a copy of our earliest work, enjoy! Only A hundred were produced. It's a collectors item."
The band comes from Idaho. What is the metal scene like there?
Molly: "The metal scene in Idaho is not bad. Hopefully, we can help make it a lot stronger. If there are any female fronted goth bands locally, I'm unaware of them. Our local radio station is Rock 94.5 in Spokane, Washington. JP is a producer there in particular, who I am honored to have met. In fact, he interviewed me at a local venue, called the Boulevard hosting LACUNA COIL, WITHIN TEMPTATION and STOLEN BABIES. It was the first time I had seen WITHIN TEMPTATION and I was blown away. The only way to get their CD at the time was ordering the European import. I am so happy they are on Roadrunner now. Other than 94.5, it's like most of America. Rap, hip-hop, country and alternative; in that order. The support he's given us and the local music scene is absolutely mind blowing. He flies the metal flag high. Thank you, JP!"
Who are some of your favorite singers?
Molly: "Sharon den Adel, Cristina Scabbia, Shirley Manson, Maria Brink, Francine Boucher, Hope Sandoval , Otep Shamaya, Dolores O'Riordan and Margriet Mol."
What other bands/artists do you enjoy listening to?
Molly: "LACUNA COIL, WITHIN TEMPTATION, GARBAGE, IN THIS MOMENT, ECHOES OF ETERNITY, MAZZY STAR, OTEP, CRANBERRIES, ASRAI and my new favorite KERLI (hard to narrow down!)."
What has been the reaction of the fans and media to "Out Of Time"?
Molly: "Amazing!! We are humbled and overwhelmed by all of the encouraging messages posted daily by our fans on our MySpace page *http://www.myspace.com/rottband and official website *http://www.rottband.com and emails. Especially, the requests to come play shows, where they can see us play live. The media has been very encouraging. For our first label release, our reviews have been phenomenal. When experienced critics are consistently rating us 8 out of 11, I'm blown away and very honored. You feel in your heart you have something to say with your music. When it's so well received, and fans and the media alike are left wanting more, it's a big confirmation, that you're on the right track."
Your band has a great presence on My Space. Do you find that this is an important tool in helping to promote the band?
Molly: "Absolutely! Without Tom Anderson and his MySpace, musicians would be without a very key tool. He gives a forum for all bands known and unknown to be heard. I can't say enough to praise the man for his invention. I'm on our MySpace almost daily checking up on my friends and fans and checking out new music. I really enjoy sharing new band photos and ROTT updates. What I enjoy even more though is getting to know people more intimately and be inspired by their thoughts and insights."
If you had the opportunity to tour with one band, who would they be?
Molly: "Well, bear in mind, that I'm not trying to win points by picking a band from The Netherlands, but hands down: WITHIN TEMPTATION. Sharon's voice is ethereally beautiful. Her vocal range is phenomenal. The longevity and experience of the band would be something I'd love to duplicate with ROTT. I know, we would learn so much from them. In addition, I don't think I'd ever tire of hearing their songs night after night on tour. They rock and Sharon is awesome!"
Thank you so much for taking the time to answer these questions. Do you have any final comments you would like to add to this interview?
Molly: "Thank you so much, Tony for this wonderful interview and to Metal Maidens. I really enjoyed it! Hopefully, your readers have gotten to know ROTT a little better. We want to come visit your country in person next, so we can get to know you and our fans even more intimately in The Netherlands. When you can see the sweat on our skin and feel the beat of the music emanating up through your boots from the floor, then I'll be satisfied. Take care and thank you to all our fans out there."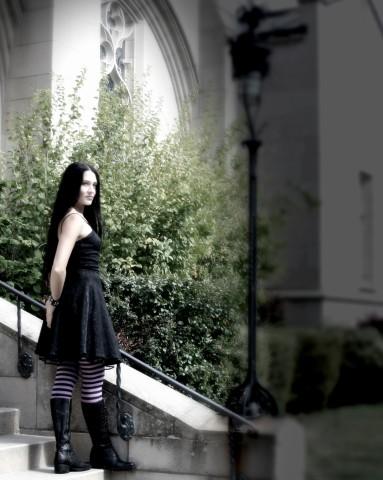 Copyright: Courtesy of Metal Maidens http://www.metalmaidens.com/
Interview by: Tony Cannella / Metal Maidens
Visit their website at: http://www.rottband.com/