Present - John Tucker and Jon Craven and later Tiffeny Joice
November 2008
Stronger than Ever Before
Liquid Sky are well and truly back in business with a cracking album 'Identity' and a kick-ass new line up. Firstly, guitarist and founder Jon Craven brings things up to date, and then new singer Tiffeny Joyce talks about her background and reason's for joining Britain's best kept metal secret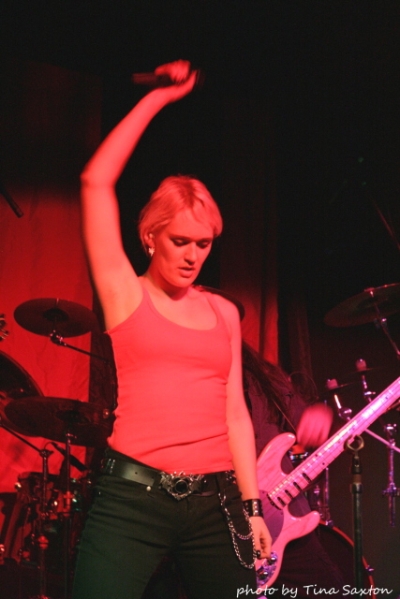 'Identity', Liquid Sky's second album, finally made it to the shelves in January 2008. Its birth was both protracted and painful, costing the band a good deal of time, effort and heartache, and also a number of band members. So the obvious start point is, was it all worth it?

"Yes, definitely," confirms guitarist Jon Craven. "We certainly are immensely pleased and proud of 'Identity'. It has very much been a labour of love for us. There were times when it looked like it might never see the light of day at all but we kept going and to have it available now is a testament to our perseverance. It's probably also more satisfying as well, knowing what we went through to actually get it released!"

The story starts back in 2005, when Liquid Sky – then featuring vocalist Hecate Taglietti, guitarist Audie Lewis, bassist Den Constable, keyboard player Joe Rhodes and drummer Jamie Ward alongside Jon – were considering how to follow up their debut album 'Bloodline'. "We wanted to record something new to take us to 'the next level': we knew that if we wanted to compete with bigger and more established bands, we had to make an album that not only had excellent material on it but also had very high production values – far above what most unsigned bands would ever dream of using. Having made that decision, we booked ourselves some studio time in August 2005. A guy who we knew had offered his services to engineer the album for free, so we thought we were on to a winner! However, it soon became apparent that while he talked a good game, he actually knew very little about what he was supposed to be doing and as a result, time dragged on, little progress was made and frustrations inside the band grew and grew. This, amongst other things, led to the band parting company with first Jamie and then Audie in quick succession.

"After doing a handful of gigs with stand-ins, we recruited Anthony Marginson on drums early in 2006, swiftly followed by long-time friend of the band Roy Chudobskyi on guitar. At this point the intention was still to release the album imminently, so despite having new band members, the consensus of opinion was to press ahead with what had already been recorded. However, having sorted out the personnel issues, the technical side of things took a turn for the worse. The guy who was engineering the album made more and more mistakes with what we'd done and started trying to get us to re-write songs, change tunings, re-edit tracks the way he liked, etc! It was a nightmare. Finally we decided that enough was enough, so we asked him to finish up to where he was and hand everything back to us so we could complete the job. Then, to add insult to injury, he told us that he wouldn't hand our tracks back unless we paid him nearly a thousand pounds! Given that he'd originally agreed to engineer the album for nothing, this came as a bit of a shock! Obviously we refused, but it was another hold-up.

"When we finally retrieved the tracks, they were in complete disarray. Parts that we'd recorded months before had simply disappeared; vocal tracks had changed; drum tracks weren't even in time! At this point, it was late 2006 and we'd already spent a lot of money without any tangible results, so we gave what we had to a guy that Anthony knew who had done some mixing, in the hope that we could salvage something from the mess. However, the gods didn't appear to be smiling on us once more as no sooner had the guy received the tracks than he moved to the other end of the country to start a new job! So in December 2006, we finally put the tracks in front of another engineer – Stu Wright, as it turns out! – and said, "What needs to be done to this so that we can release it?" His response was pretty blunt: "Start again"! His answer was gut-wrenching for us at the time but in hindsight, it was spot-on, as we proceeded to re-record what ended up as the album that's now available. And as I said in the liner notes of the album, Stu was the one who was able to make the music in my head actually become a reality. He's got fantastic technical knowledge about recording and he also has a great ear, which helped us enormously throughout the whole process. We were able to combine that with my fanatical attention to detail with the songs," he laughs, "to come up with the amazing end-product that you can hear on the album!"

The icing on the cake came by virtue of a final mix by Karl Groom. "We actually looked at several well-known names to mix and master the album, but I'm personally a massive fan of Karl's band Threshold and their line-up is the same as ours, albeit with male vocals, so we knew that he had a great understanding of how all those different instruments and parts fit together! In the end, it became blindingly obvious that Karl was the right man for the job – he's a fantastic bloke; incredibly easy to work with, immensely professional and good fun as well! We owe much of how the album turned out to him."

Meanwhile, somewhere amidst all this chaos, the band's long-term keyboard player Joe Rhodes switched to guitar. "Well, when we started to re-record the album in January 2007, Roy had just been offered a new job and had to relocate," continues Jon, "so unfortunately he had to leave the band. At that point we thought we only had two choices – either postpone recording the album yet again until we found a second guitarist or have me record all of the guitar parts. We quickly decided that the first option would be virtually suicidal for the band and I felt that while the second option was personally exciting, it wouldn't have provided the variety in guitar work that's intrinsic to the Liquid Sky sound. Fortunately, a third option presented itself almost immediately, in the form of Joe! At the time, it wasn't widely-known that Joe is a fantastic guitarist as well as a keyboard player, but it was very clear to us that Joe could more than do the songs justice, so we decided to press ahead. In hindsight, it was a great decision, as Joe did some excellent work on the album."

(Since the album was recorded Joe has left the band, his replacement being Andy Midgely on guitar. Rick Ogden now stands behind the keyboards.)

Following a brief intro 'Tranquility Base', 'Identity' opens with 'Titan', an older song and a long-time stage favourite, and an awesome call to arms with its "stronger than ever before" chorus line. "We came to the conclusion very early on that 'Titan' was the only song we should start the album with," recalls the guitarist. "However, I'd always wanted to do some kind of introduction to the album, which is why 'Tranquility Base' makes an appearance. But seeing as we'd already decided on 'Titan' as the album opener proper, there are audible references to it (and other songs on the album) in the intro track. I've said several times that if anybody can correctly identify them all, that they'll get something special from us but we've yet to have any takers so the challenge is still there…" he laughs.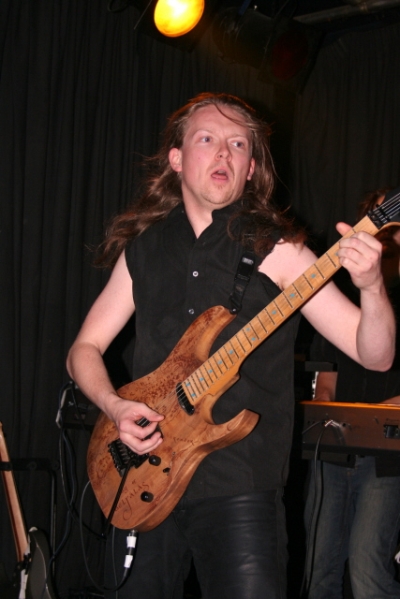 Alongside the newer material on the album, 'Identity' features a couple of older songs like 'Watch The Ocean' and 'Stitches', and I wondered why they choose to spruce these up, rather than just leave them behind and include all new material. Jon considers the question. "To be honest, the simple answer to that is that the previous recordings of the older songs never did justice to the ideas we had for them. They never quite sounded the way we wanted them to, so we felt that re-recording them was more than justified. What you hear on 'Identity' are the definitive versions of those tracks. Plus, they're great songs, so 'leaving them behind', as you put it, was never really an option."
I've baited Jon with this before, but 'Love Labours Lost' (rather than the true Shakespearian title 'Love's Labour's Lost') has the purist in me grinding my teeth. Jon just laughs. "Firstly, let me make it absolutely clear that there was no harm intended! I love much of Shakespeare's work and I have been known to be in a play or two of his as well in the past! The song name was a very deliberate alteration of the Shakespearean play title on my part! It just so happened that the sentiments expressed in the song matched up well with the altered title, so the name stuck! Sorry!"
Having struggled for so long to get the album released, it must have seemed that finally everything was coming together for Liquid Sky. The wheels almost came off the bus though when both Heccie and Anthony handed in their notice. "Well, it was something of a shock but to be honest, it wasn't entirely unexpected," Jon replies. "It had become increasingly clear to the rest of the band that their hearts just weren't in the metal scene any more and, as a result, working with them became increasingly difficult. We had hoped to work something out with them but they made it very clear that they didn't want to be part of that scene any more so them leaving the band was pretty much inevitable. There was a period of about 24 hours immediately after they told us that they wanted to quit that all of the doubts nearly got the better of us. However, being faced with the imminent end of the band, Den, Rick, Andy and myself soon agreed that we wanted to continue, to move onwards and upwards, and we like to think that we already have!
So, having decided to keep the band alive, the search was on to find a new singer and a new drummer. First in was Stu Wright. "We knew Stu from recording the album – so there wasn't actually a lot of 'finding' involved in getting a new drummer!" Jon laughs. "When we thought about a new drummer, we actually had a very short shortlist and Stu was immediately the right fit. Easy decision: as he had worked with us on the album, we knew he was very familiar with much of our material, we knew that we got on very well with him and we knew that he was a great drummer, so it ended up being a bit of a no-brainer really!
"As for looking for a singer, we changed our approach from how we have looked for band members previously. We decided to look for the best vocalist for the band regardless of their location, rather than 'the person who lives closest and kind of fits the bill'. We've been burned by that approach before and we were determined to not do it again. So it was a longer and more arduous process to find a new singer. We were initially inundated with applications for vocalists and from them we managed to whittle it down to an audition shortlist of four or five. However, it was clear to us from the moment that we heard Tiff sing that she was something special and over the course of her audition process, we realised that she would be great for the band. She's technically amazing, has fantastic soul and passion in her vocals, she's got incredible presence and, to cap it off," he grins, "she's as mad as the rest of us! But, in all seriousness, we looked far and wide for the best vocalist for the band and fortunately, we found her!"
The new-look Liquid Sky made its debut at this year's Bloodstock Open Air Festival. Jon laughs. "Yes, well, for Tiff and Stu's live debut we decided to go easy on them and make it pretty low-key so they wouldn't feel under any pressure! But to be honest, I don't think that any of us could be happier with how it went. The whole weekend was fantastic and being able to headline the Lava Stage on the final night of the festival was a real honour. It was great to be back at Bloodstock again after four years and we were overwhelmed by how positive the response was to our set. There are always going to be one or two things that you can nitpick after the fact but on the whole, it was amazing. Given the fact that playing in 2004 was a springboard for us then, hopefully this show will do the same thing again for us, only to a higher level. And who knows? Maybe we'll be back at BOA again some time soon, on the main stage. That's certainly what we'd hope for.
"In the meantime, we're writing and demoing new material for our next album, which we hope to record next year. We've already started to try out some of this material live – we debuted the first song that we've written with Tiff at BOA last weekend! – and more will be creeping into the live set as the year goes on. We might try to put out an EP of some description in the next six months or so to tide people over and we're also thinking of releasing a DVD at some point soon as well. We've got lots of interesting ideas, but we've not settled on exactly what we're going to do yet so you'll just have to watch this space! Whatever happens, we're bound to be busy!"
As we wrap things up, I ask Jon to spill some trivia about the band. After a moment's thought, he comes back with, "OK: several band members have an unhealthy fondness for Jagermeister, although I won't say which ones – you'll just have to buy us all shots to find out!; I'm a qualified psychologist; Den is ridiculously good at martial arts and knows seven different ways to kill a man with his thumb; and Tiff can play the Irish whistle. That enough?"
That'll do for now…
Tiffeny's story:
The obvious start point for the band's new singer was some basic history, followed by 'why Liquid Sky?' Tiff laughs. "Just to warn you, this is a long story!" she laughs. "OK, well, performance has always been a huge part of my life! I studied Dance and Musical Theatre back in Ireland all through my teens and performed at the Opera House and The Everyman Palace in Cork on a frequent basis. After I left school, I knew I wanted to pursue a career as a performer so I decided to move to England to further my training.
"I trained in professional Dance and Musical Theatre at Bodywork (Cambridge Performing Arts) in Cambridge. I was awarded a scholarship at the end of my first year so I decided to stay and trained in total for 3 years. During this time I had the opportunity to gain a lot of performing experience. I performed at the Cambridge Corn Exchange as a backing singer for Jane McDonald and was also did a show as a backing dancer for Beverley Knight. My first experience playing a lead character was when I performed in a production of 'We Will Rock You' at The Mumford Theatre in Cambridge. During my training I also started writing my own material and thought that it would be great to develop that at some point.
"Since graduating I've done many things in the performing arts world. I performed on the show Fame Academy for a few series then I landed a job as a backing singer for nine months for a Blues/Jazz band called "Chantz" from New Orleans, who were signed to Universal Records. It was a great experience as I got to do a lot of TV stuff and performed at The Royal Albert Hall and Ronnie Scott's in London, which was amazing! But I eventually left, as my heart wasn't it. I was listening to a lot of rock and metal and was completely inspired by Iron Maiden and edgy performers like Marilyn Manson, so while I have a huge love for old style jazz singers like Nina Simone, etc, I felt unfulfilled in the jazz world. And personality wise I really felt that I was in the wrong scene for me.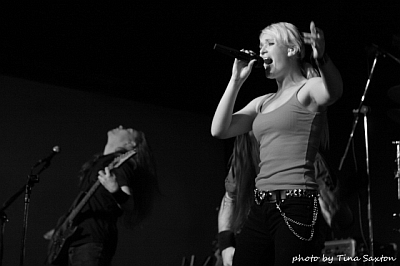 "At this point it finally became clear to me that I really felt that I had what it took to front a band. All the backing singing was very important for me as it had given me a lot of experience and confidence, but it eventually led me to realise that I wanted to front a band and concentrate on my creative side. I won a part scholarship and went to study music and vocals at The Institute of Contemporary Music in London – I knew it would be a good place to find musicians who were talented and focused. I spent a few months auditioning and put together a rock/metal band and over the next year and a half, I developed the band Venefica. In that time, we wrote and recorded a demo in Norway and did the usual gig circuit around London. My main song-writing partner left in December 2007 as he was offered the guitarist position in the Norwegian metal band Trail of Tears.
"His departure really upset the dynamics in the band so while we wrote some new material after he left, stylistically I really wasn't happy with the outcome. The material seemed to be going in more of a modern rock direction, which really wasn't what I wanted for the band. As a singer who doesn't play an instrument, it's really difficult to have control over the actual music that is created and I really missed the strong metal influence in our music. However, the other members didn't want to look for a replacement and wanted to keep the band as a four piece, so it became clear that the band wanted to go one way stylistically and I another and so I decided to start looking around for something that suited me more. I really didn't want to start from scratch all over again, so I was looking for a band with a professional outlook, were solid, experienced and METAL!! Oh, and who were searching for a new female vocalist as well!" She laughs. "Not much to ask for, eh? So I sent some demos out and was offered the position as front-woman for two London-based metal bands and also had interest from a Finnish band as well. I found the advert for Liquid Sky on the internet and applied. I had to record my vocals on two of their tracks and then write lyrics and vocal melodies to a track that the band had sent me. The minute I heard the music I had a very strong feeling about this band. I absolutely loved the music – it was exactly the direction I felt that I had been trying to achieve with my band. Liquid Sky definitely had something special that I couldn't quite put my finger on but one thing was for certain; they had the edge above all of the other bands I had been auditioning for. The music was powerful, dramatic, heavy but also melodic and the quality of the recordings was very impressive as well. It was very clear from the beginning that I was dealing with a very focused and talented band so needless to say, I was very excited about auditioning. To cut this long story short, I was asked to attend a live audition in Manchester in June, and at the end of the audition I was delighted to be offered the job as the new front-woman of Liquid Sky."
As for influences, "Like most people my musical influences have been extremely varied," Tiff replies. "I guess musical theatre has been a huge influence on me and I've always been attracted to the darker side in different styles of music. Females in metal bands like Floor in After Forever and Christina in Lacuna Coil have also been a huge inspiration, as well as a lot of female blues singers for their depth and passion.
I wondered if she'd been aware of Liquid Sky before she joined them, but she shakes her head. "Friends of mine on the metal scene in London had heard of them and had seen them play in Camden, but I hadn't personally heard of the band before.
As the songs were written for other singers, I wondered how she felt she could put her own stamp on them. "Simple," she replies. "I can relate to some many of the lyrics! Love and heartbreak are current themes, so I can honestly say that I can really put my own feelings and experiences into the Liquid Sky songs. I've had to fight to get where I am today, so I can put my heart into songs that inspire a feeling of power and courage, like 'Titan' and 'Beyond The Divide'. Also, with my background in acting and musical theatre, I have always loved interpreting other people's songs.
As for her favourites amongst the current crop of material, she lists 'Ghost In A Shell' – genius guitar riff! It's so catchy, And great vocal melody line! And 'Titan' for its strong, positive lyrics and brilliant guitar solo. And then there's 'Helpless' which is the first song I've written with the band. It's a vulnerable and emotive song, but the lyrics are also filled with strength and positivity. It's fantastic to be working with a keyboard player as well and I think that it adds a really poignant feel to the song.
As it's time to wrap things up, I feel it's only fair to point out that everyone in Liquid Sky is barking mad. She laughs once again. "Yeah! Please forward all complaints to Mast-Jagermeister AG, Germany."
Definitely sounds like they've got the right singer to me!
John Tucker / November 2008