Present - John Tucker and Marco Haubaum, founder of Xandria
November 2008
The End of Every Story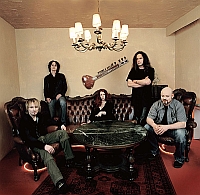 Xandria's guitarist and founder Marco Haubaum on the double whammy of on the one hand releasing a cracking CD/DVD compilation and on the other losing the band's singer.

The times they are a-changing, indeed. Hot on the heels of the announcement that Xandria's label had a 'best of…' compilation 'Now And Forever' in the works, the German band's singer Lisa Middelhauve announced her resignation, meaning an aural snapshot in time became an end-of-an-era retrospective almost overnight. So, given that the two events pretty much co-incided, the obvious start point was to find out whose idea it was to put together a 'best of…', and why now? Was it triggered by Lisa leaving, or was it already planned to round up the material recorded so far?
"Well," begins Marco, "it started with the DVD. Our fans have been asking for a DVD for a long time now and we've never done one, so when our label told us they wanted to do a 'best of…' – because our contract is fulfilled now and labels always do that kind of thing then – we thought that would be a really good opportunity for doing a great package for all the fans by combining the 'best of…' CD the label wanted and the DVD we wanted. The plan started way before Lisa's departure, although the timing has meant that, unintentionally, instead of this being a short review of Xandria´s history to date, it's the end of a whole chapter – and of course the beginning of a new one," he adds with a smile.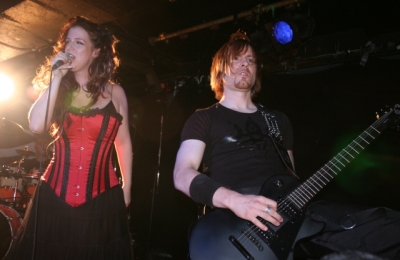 One of the big bugbears bands often have with career-spanning retrospectives is an inability to contribute to what's actually featured on it. And if they actually do get a say, there then comes the question of what's hot and what's not. I can still remember the band agonising over what songs to omit when they had to shorten their planned set for their Camden Underworld gig in September 2007. Marco laughs. "Yeah, but at least the tracklist of our 'best of…' is longer! It is a full package of eighty Minutes for the fans. And concerning the first question, we were very much involved in the planning of the release. They were wise enough to involve the band – in contrast to some other labels that release pretty dull sell-out compilations – because they knew that always ensures a better package for the fans. So we 'demanded' that we fill up the playing time to the maximum of twenty songs, and we were the ones to decide the tracklist. This was not so easy of course, because you always leave out something important for someone. So we tried to find a balance between the live 'classics' and some songs that better work when listened to with headphones on, if you know what I mean. We did consciously try to show off our musical range because we are known for having a broad palette of variation on our albums. I think the result is a great package for the long-time fans – mainly because of the two-hour DVD with a lot of unreleased material we've filmed backstage, studio sessions and more funny odds and ends, and the remastering of the songs – but it's also a great way to get to know Xandria for people that didn't know us before.
"There are three bonus tracks that have not been released on the original albums as well. 'Drown in Me' was a B-side on the 'Eversleeping' single and 'Lullaby' was a bonus track on a special edition of 'India' – it's a great song to end such a compilation peacefully and calmly," he laughs again. "And then there's 'One Word' which was left over from the 'Salomé' sessions, largely because I was the only one in the band that actually liked it! So I was happy to have the chance to release it finally, and everyone can make their own minds up as to whether it's a pretty cool song or just shit," he roars. "One fan even told me it should have been the single from 'Salomé' – well, so much for the decisions we make!"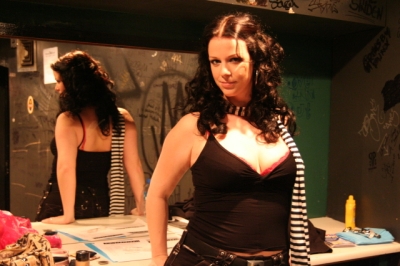 As well as displaying the band's variation in style, 'Now And Forever' also does a good job of charting Xandria's evolution. I wondered if, when they grouped the songs together, Marco noticed that himself. He thinks for a moment or two. "I'm the type of fan of other bands that is always very concerned about the details of their sound, their history and development. Sometimes I really bug friends when I talk to them about the theoretical side of some band or another when they just want to listen to the music! But when it comes to analyzing your own band, well, that is a very difficult thing to do; I've often though it would be great to be someone who is NOT in Xandria, but a fan standing in front of the stage when we play, or just getting to know us buying his or her first Xandria album, just to see what it is like – just for one day, you know? But in terms of simple facts, for example how well an album is produced, I know pretty well how we've evolved, and what in particular I'm happy with: for example, I think that our last album has got the best production, but doesn't have our best song on it."
Which is, I venture?
"There are several songs that are important to me emotionally in different ways. But from the perspective of a songwriter, speaking both in technical terms and thinking about how a song can move and fascinate people, I think 'Ravenheart' is an obvious choice. I think that song worked on a number of levels, and that's something to be proud of."
Meanwhile, of course, Lisa's departure threw a rather large spanner in the works, although it did not come entirely out of the blue. "It was a surprise in one way," says Marco, "and we published it to the fans almost immediately, by the way, but of course you know when things aren't right anymore, and we'd known that for a while. I mean, there have always been differences, especially between Lisa and me. We were a bit of an infernal duo, screaming at each other when we were fighting about one simple word in a lyric, but we could also come up with something great when we put our heads together."
Although it all looked OK out front, there was definite friction behind the scenes… "Well, after 'India', in its production phase, there was a lot of fighting between us. After that I think we took things a bit easier for a while and that led to an album like 'Salomé' where there was not so much talk about what to do and what not to do. That led to less fighting, but also to an album that, I don't know, presents our sound a bit inconsistently, and the reactions of the fans showed that; some were a bit confused by it, I think. So after the release of that album I thought it would be great to return to a powerful, consistent sound and do more of the things people always like about Xandria, because, fairly obviously, that's what I like too. That was the only way to go for me but when we talked about it, it became clear that Lisa's way would be an even bigger departure from Xandria's history, and that she couldn't work any more with this sound, the image, and the role she takes as a lead singer in it. She also said she was fed up with many things in the music business, which I can quite understand. So she said she'd step aside for someone that can really stand behind Xandria and do everything that goes with the role of being Xandria's front person. But I do think she's really enjoyed many things that we'd achieved and I hope will always remember it as being a really good time together, as I do."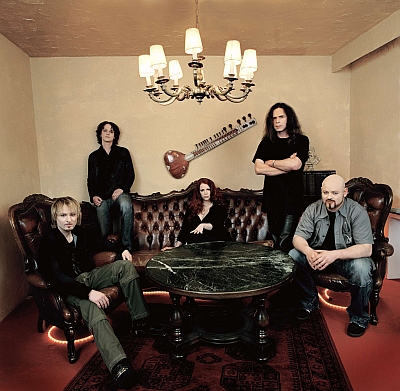 So this isn't a Nightwish scenario, then? "No," the guitarist laughs, "it is not a Nightwish scenario. We accepted Lisa's reasons and after the first shock – seeing that we spent such a long time together, have gone through so many good and bad things together so it makes me sad to realise that it is over now – we all realised also that it was a necessary step for both sides, because without it nothing could go on any more at all. So we had great respect for Lisa's decision and parted in peace."
Of course there is the added complication that Lisa's husband Nils is also a member of Xandria, "And will continue to be so," confirms Marco; "there is no reason for him to leave, too. As we parted amicably, there is no big problem for him to remain in the band."
Marco is adamant that the band will continue with a female singer. "Of course: Xandria will be what it is, just with a new voice. We will present a new singer to the public when the time is right. The only way for us to go is further on, always developing, always feeling that we are getting 'better' as a band: we would rather not take any steps at all than take steps backwards. So you can be sure that when we find a new singer, it will be someone with whom we are convinced we can reach our next level. Of course, something like this always brings some change or another to a band, but the musical base will stay the same. I formed the band and I gave it its sound, and I'm still here, so let's see what future brings!"
John Tucker / November 2008