Toine van Poorten (Metal Maidens) talks with members of Persephone's Dream
January / February 2008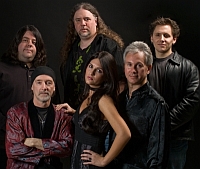 Persephone's Dream started their career in the late eighties as a progrock band. They developed their style and recently released their fourth album "Pyre Of Dreams". This album showcases their best recordings so far. They also got help from DC Cooper, vocalist of Royal Hunt and Silent Force, who added his vocal skills on two songs. The future looks very bright for this band from Pensylvania. Although their career has also known some black pages, like the sudden death of bass player John Lally in July 2007. Persephone's Dream stood tall despite this great loss and didn't call it quits. This is their story so far told by the whole band. In closing, we'd like to say thanks to vocalist/soloist Colleen Gray, who sang three songs on "Pyre Of Dreams" and contributed to this interview as well.
Well, come with us to the land of Persephone's Dream and relive the days of King Arthur and his mighty sword Excalibur on "Pyre Of Dreams".
Toine: When was Persephone's Dream founded and can you please introduce the band members to us?
Heidi: Persephone's Dream was established in December of 1993 by Rowen Poole and Chris Siegle. The group began as a studio project and later evolved into a full fledged show band complete with sets, costumes, lighting, and visual effects. The current members include Rowen Poole on guitar, synths, and keyboards; John "JT" Tallent on percussion, bird sounds, bells and any other odd sounds, that you can imagine; Jim Waugaman (or the 'Octopus Hand Piano Man' - as I like to refer to him) on keyboards, organs, pianos, and vocals; Scot Harvey on drums; Benjamin Bond (a.k.a. 005 String – he's the newest member) on bass and I'm Heidi Engel on vocals. Jonathan "Strobe" Fleischman (our lighting and visual effects director) is also a notable member of this band, but I'll explain more about him later.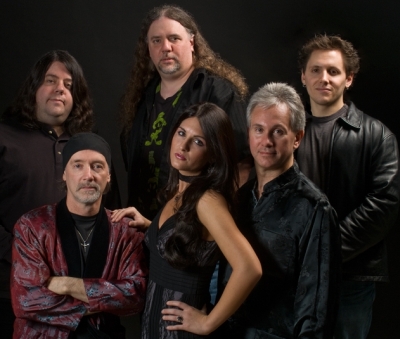 Toine: Who came up with the name Persephone's Dream and why did you actually choose this name?
Heidi: It was Ro (Rowen), who actually came up with this name, but I'll let him tell the story in his own words.
Rowen: I came up with the name Persephone's Dream, while reading a copy of Edith Hamilton's "Mythology" book in April of 1997. Prior to this, the band had gone under a different name. The name was inspired by the myths of Persephone, who could never lead the life she wanted and was, philosophically speaking, the only one of the Immortals that died and came back to life. She was also related to the changing of the seasons. These myths were parallel in some ways to the fact, that Chris and I had thought about having a female-fronted progressive rock band since we started things in 1993, but finding a female singer, who was even remotely interested in singing progressive music, let alone original progressive music was a task that took us almost four years to complete. We never thought we'd be successful, though there were times things looked promising only to fall again. Hence, the relationship to Persephone was interesting in terms of naming the band.
Toine: The band originally started out as an idea, but really gained shape by late 1993, when Rowen Poole and Chris Siegle (who left the band in April 2006 to devote more time to his family) joined forces. Since then, many line-up changes occurred…. Do you still have contact with some of the old band members?
Heidi: You're absolutely right. Many of the members of Persephone's Dream have changed over the years due to various things in life pulling them away from the band. We still have contact with Chris, Karen, Ed and Steven on a fairly regular basis, as they are still friends of Persephone's Dream. Ro says, that he hasn't heard from Judi (the vocalist on the first CD) for a while though. He thinks, she may have moved out of the area she was living in.
Toine: A couple of months ago your good friend/bassist and Chapman Stick player John Lally passed away, which obviously was a big smack in the face for the band (and his family and friends as well). How do you deal with that? Don't you wanna quit right away, when something like this happens?
Heidi: Yes, it did come as a terrible shock to me as well as to the other band members. John became a very dear friend to me in a short time period. It's a very sad thing, when you lose a friend, especially a friend that feels like part of your family. That's what the members of Persephone's Dream are to me. They are family to me and when something bad happens, you don't quit your family; you come together to support and help each other through the rough times for better or for worse. John Lally, although not physically with us, will always be a part of this band so long as he's in our hearts and a part of us.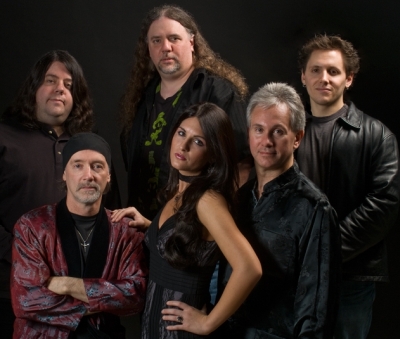 Toine: How did you find a suitable replacement for him, and is your new bass player also capable of playing the Chapman Stick?
Heidi: I believe it was Rowen and Jim that placed the ads for a new bass player. Ben had answered one of those such ads, and Rowen had seen him perform years ago and knew he was good. Although not a Chapman Stick player, capable Benjamin Bond (005 String) had extensive training as a bass player playing in many bands and working alongside the likes of bass guitarists Jeff Berlin, Stu Hamm, and Billy Sheehan. He also plays the six string fretless bass, which sounds awesome on some of our songs. Unfortunately, we didn't give him much time to learn our material for the Halloween show we were planning. Ben was a real trooper though and said "go ahead and throw me into the frying pan". To our amazement, not only did he learn the material at record speed, but he also added his own personal touch with smooth embellishments and cool melody lines.
Toine: How would you describe your music yourself?
Heidi: I like to think of our music as having a little something for everyone. It's as we say 'mysterious music for the mind'. With progressive music, it allows for a variety of elements and styles of music to come into play. That's one of the many reasons I love being in Persephone's Dream. I've always enjoyed singing different types of music and this band gives me the platform to do that. I would best describe our sound as non-intrusive progressive art rock with elements of opera, goth, rock, a hint of space rock and metal.
Colleen: Indescribable! Hehehe. Yeah, I agree completely with Heidi's very apt description; 'mysterious music for the mind' sums it up the best.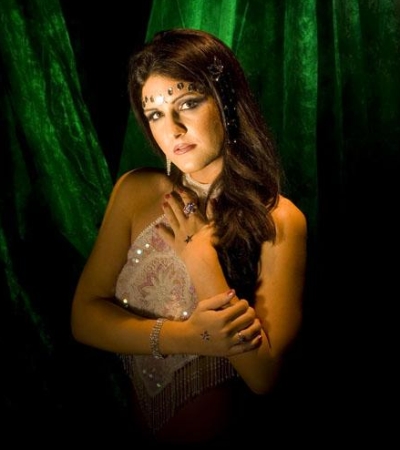 Toine: Who can we see as your musical influences and maybe you can also name some influences of each band member individually here?
Heidi: Some of the big influences of music in my life have been Mary Costa, Kathleen Battle, Beverly Sills, Sarah Brightman, The Three Tenors, Lydia Pense (Cold Blood), Christina Aguilera, Samantha Newark, Gwen Stafani, Stevie Wonder, Smokey Robinson, James Taylor, Al Green and Jewel. I could go on for days of course, but those are the main ones. Rowen's main influences from when he was younger and learning how to play would be Buck Dharma (Blue Oyster Cult), Alex Lifeson (Rush), Ace Frehley (Kiss), Skunk Baxter and Walter Becker (Steely Dan) and Steve Miller. Ro says he really likes some of the stuff played by Ed Wynne (Ozric Tentacles) and John Petrucci (Dream Theater). Some of Scot Harvey's influences are: Bill Bruford, Ringo Starr, Keith Moon, any of Frank Zappa's drummers/percussionists (but especially Terry Bozzio, Vinnie Colaiuta, Arthur Tripp & Ruth Underwood), Joe Morello, Art Blakey, Alice de Buhr, Pierre Moerien, Gene Krupa, John French and Phil Collins. John Tallent's drumming influences are Ed Schaunessey (the Johnny Carson – Tonight Show Orchestra), Dino Danelli (of the Young Rascals), Jim Keltner (independent session drummer), Ralph McDonald (independent session percussionist), Phil Collins and Bill Bruford. J.T.'s band influences are The Tonight Show Orchestra (the Johnny Carson period), The Young Rascals, The Turtles, The Beatles, Renaissance, Genesis, The Strawbs, October Project, Kate Bush, Peter Gabriel, Steve Hackett, Sarah Brightman and yes, Ry Cooder and Bette Midler. Jim Waugaman was inspired by Claude Debussy, Chick Corea, Keith Emerson (ELP), Isao Tomita, Kerry Minnear (Gentle Giant), Flavio Premoli (PFM), Ryuichi Sakamoto, William Mathias, Jehan Alain, Akikc Yano, Huw Warren, Takashi Kako, Alberto Ginastera, Masaji Watanabe, June Tabor, Thijs Van Leer, Steeleye Span, Chinese traditional music, Japanese traditional music, folk music of England, Ireland, Scotland, and Wales, and Indian classical music. Some of Benjamin Bond's favorite bass players include John Paul Jones (Led Zeppelin), David Ellefson (Megadeth), Cliff Burton (Mettallica), Jason Newsted (Metallica), Billy Sheehan (DLR, Mr. Big, Talas, Steve Vai, Niacin), Stu Hamm (Joe Satriani, Steve Vai), Jeff Berlin, Jaco Pastorius, John Myung (Dream Theater), Doug Pinnick (King's X), John Entwistle (The Who), Stefan Lessard (Dave Matthews Band), Yngwie Malmsteen, Roger Glover (Deep Purple), John Pattitucci, Tom Scholz/Fran Sheehan (Boston), Mike Rutherford (Genesis), Brian Ritchie (The Violent Femmes), Tommy Shannon (Double Trouble), Tony Levin (Peter Gabriel), Duff McKagan (Guns 'N' Roses), Chris Squire (Yes), Barry Sparks (Vinnie Moore, Yngwie Malmsteen), Ryan Martinie (Mudvayne), John Deacon (Queen), Victor Wooten (Beta Fleck), Steve Bailey, Gene Simmons (Kiss), Flea (The Red Hot Chili Peppers), Nathan East (Phil Collins, Eric Clapton), Billy Cox and Noel Redding (Jimi Hendrix), and Geddy Lee (Rush).
Colleen: My biggest vocal influence, hands-down, would have to be Ray Alder from Fates Warning. I've been blessed to be given the opportunity to assist with their online administration over the last few years and have since become friends with Ray. His talent is truly unique and I am constantly amazed at the passion and emotion he brings to anything his voice touches. Also would have to list my mom, Tori Amos, Jim Matheos, John Sykes, Jason Becker, Russell Allen, Marcel Coenen, Ray Gillen, Glenn Hughes, John Denver, Aretha Franklin, Stevie Wonder, John Williams, Elton John, Billy Joel, Eva Cassidy and Karen Carpenter.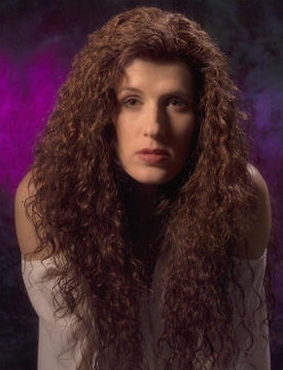 Toine: After three indie CD releases ("Evening Mirage" in '97; "MoonSpell" in '99 and "Opposition" in 2001), you signed a deal with Progrock Records (USA), where you released your new album "Pyre of Dreams" in May 2007. How did you get in touch with them in the first place and can you tell us about this cooperation so far? (our friends from DIAL are on the same label)
Rowen: Ah! Kristoffer Gildenlow! We've met before. Tell him I said 'hello'! As far as our relationship with Prog Rock Records goes, it started out in a conversation I had with Michael Gardiner, whom we know and whom often writes for Progression magazine and others. He suggested that Shawn (Gorden- Prog Rock) might be interested in our music as we were about to release CD #4 ("Pyre of Dreams"). He contacted Shawn, told him of us, and Shawn contacted me and asked for some samples. The rest is history. It's great to be a part of the label and he's a great advocate of all things prog.
Toine: Can you tell us a bit more about these three independent released albums? What do they sound like, comparing to the music on your last release?
Heidi: I'll let Ro explain the first three albums in depth, because I wasn't a member of Persephone's Dream at the time.
Rowen: The first release, "Evening Mirage" was all experimental stuff done in the studio with just Chris and myself (and the vocals from Judi). There's some interesting stuff on it, but it sounds very amateurish to my ear now.
"MoonSpell" was a private masterpiece to the band, as it was. I don't mean to say, that it was a 'masterpiece' to the world in the classic sense, but one on a personal level to all of us in the band at the time. It was the first real Persephone's Dream album and was written and recorded during some very personally inspiring times for all of us involved. It was also written and recorded in fifteen weeks time, which is, by far, the shortest time ever for us.
"Opposition" is an album I can't listen to, personally. The engineering and production on it is terrible and that's mostly my fault. We were building our new studio at the time of writing/recording this CD and learning how to use a lot of new equipment. Musically, it has some pretty cool pieces on it, but sonically…yuk!
The new CD, "Pyre of Dreams" is definitely our best production yet.
Toine: Can you please explain some of the lyrics on these albums?
Heidi: Rowen was the writer of about 70% of the lyrics on the four releases and says "all I can say is that many things have inspired me – from bad relationships to hard core science fiction". As a newer member of Persephone's Dream, I'm hoping to contribute greatly to the writing process, as did their previous singer Karen Nicely.
Toine: How many copies were sold of these albums and are they still available somehow?
Heidi: We've sold several thousand copies of each release except "Evening Mirage", which have only sold a few hundred. However, Ro says that CD was never officially released. All Persephone's Dream CDs are still available.
Toine: On your latest album, there's a special guest appearance by Mr. DC. Cooper (Royal Hunt) as lead vocalist on two songs. What was it like working with him?
Heidi: Working with him was awesome! The ever patient and inventive DC Cooper is probably one of the hardest working people I know. Not only is he a pro in the music biz; producing, arranging, writing, recording, not to mention singing and performing internationally on tour; but he is also a full time EMT, a volunteer firefighter, and has a beautiful family. I think, he put out about five or six CDs last year. I'm fairly certain the man never sleeps. In fact, I remember him coming to a couple recording sessions after he'd just come off a 24 hour shift and we worked those nights until the wee hours of the morning. I have no idea how he does it, but it makes you want to push yourself to work harder. DC was actually hired to produce "Pyre of Dreams" alongside Rowen Poole. It was a bonus, that he agreed to sing on the album. I came into the project quite a bit later, as I didn't become a member of Persephone's Dream until June of 2006. After one session with DC, it was easy to see why Rowen nicknamed him 'the ear'. He never missed a beat. If something was even the slightest bit off, he would catch it.
Rowen: He has a great ear for music and melody, and is superbly creative!
Colleen: DC was a powerhouse with the most insane ear I have ever been privy to working with. He was incredibly patient with me as I was recovering from fractured ribs and a subsequent lung infection, when we first started laying down the vocal tracks. Through his guidance, intuition and coaching, I was able to command some of my finest work. He pushed me to better my performances, to connect more with the music and taught me invaluable lessons about being effective in the studio setting… all while coming up with some wonderful vocal arrangements and harmonies (there are some eight parters floatin' around on the CD) and keeping the atmosphere upbeat and enjoyable. I truly feel blessed to have been able to spend the time with him and to have had him as a vocal coach during the sessions.Thanks, again, DC!
Toine: How did you get in touch with him?
Heidi: It was Ro, that actually got in touch with him. He's worked with DC on several projects in the studio and has known him for years. Before DC left Pittsburgh to work with Royal Hunt, he played on the local circuit here. Persephone's Dream & DC would sometimes cross paths or play at the same venues. DC and his family also live in the same area, where Ro grew up. About seven years ago, DC was producing and assisting in writing with a local prog band, that wanted to use Rowen's studio to record their tracks in. That's how Ro and DC became good friends and started working together on new Persephone's Dream material.
Colleen: A very nerve-wracking telephone call going over some of my pilot tracks. It went something like this in my mind: (utter look of shock) "I'm on the phone with DC Cooper". This was followed by a request to sing a certain part to him right there on the spot, over the phone."I'm singing to DC Cooper on the phone" (utter look of shock).
Toine: Can you tell us something about the song selection on the album? Is there any concept involved? King Arthur plays a big role on the whole album.
Heidi: The songs selected for "Pyre of Dreams" were the songs written for the album itself. On the album, there are five songs, that were written to be a part of the "Temple in Time" sequence (The King Arthur concept piece). They include "Mist", "Nimiane", "Soliloquy of a King", "Camlann" and "Avalon". "Avalon" was the first of the five pieces written and it was for awhile a stand-alone song. A couple of years later Persephone's Dream at the time, came up with idea of a concept piece involving King Arthur. Science fiction and fantasy books inspired a few of the other songs.
Colleen: "Threnody" came about, lyrically, as one of those 'given the music at just the right time' moments. Rowen had sent over the instrumental tracks and the very first listen happened at the same time my husband was watching "LotR: The Two Towers" on his computer, which is right next to mine. I glanced over at the start of the music and ended up seeing the scene, where Galadriel is bidding farewell to the Fellowship. Right then, my mischievous muse decided to whack me upside the head. "I wonder what that line right there would sound like with this intro…"!! Frantically motioned to Todd to rewind! Rewind! We got the two synced up, and the timing was unbelievably perfect. Next thing I know I have the first verse and chorus on paper, melody in mind and am calling Rowen with the concept. I had been playing around with the idea of basing lyrics on various character lines from a movie and this ended up being the perfect avenue to facilitate that idea. One of the special moments in preparing for the album was discovering that many of the band members were also huge Tolkien fans, after I presented the idea and the first set of the lyrics to Ro.
Toine: Who is deciding, which of the two vocalists sings a song, because you have two great singers in your band (Colleen Gray and Heidi Engel).
Heidi: I wish I could say, that I've had the opportunity to work with the lovely and talented Colleen Gray. In fact, I'm hoping I can convince her to come and perform at future shows. She worked so hard on this album and I would really like to have the opportunity to meet her in person, give her a big hug, and sing with her on stage.
A few years ago Persephone's Dream had asked Colleen to sing on the album "Pyre of Dreams." She agreed and was flown in to Pittsburgh (she lives in San Diego, California), so she could do the vocal tracks (I joined the group a few years later). She did a fantastically tremendous job too, but geographical circumstances, not to mention family obligations, work, etc. wouldn't allow her to continue with Persephone's Dream. Colleen has been involved in numerous musical projects and you can follow her musical career by visiting her website http://www.colleengray.com or checking out her myspace site.
Colleen: Take that first line from Heidi and just switch out our names and you'll have a good understanding of how I feel as well! (Thank you for the kind words, M'Lady… the feeling is completely mutual!) You know, learning and creating the music for an album while being on opposite ends of the country, or in another country for that matter, is one thing… Getting together for rehearsals and practicing for live shows is another. The logistics with family, work and expenses can be a nightmare. That being said, I also truly hope to be able to be involved in the live format at some point. In regards to whom chose whom to do what, that (for this album) literally came down to timing. Had Rowen and Heidi crossed paths before I came in to the picture, I doubt you would even be hearing my voice at all on Persephone's Dream! Heidi is such an incredibly perfect fit and I'm thrilled for the guys, that they were able to find such an incredibly talented and beautiful vocalist so close to home. I am looking forward to hearing what transpires for the next album and truly feel blessed to have had the opportunity to be involved with this one.
Toine: How does the band create a new song? Do you start jamming, do you start with writing music, or do you start with writing lyrics and then get to the musical part. Please give us an idea of how a new Persephone's Dream song is born?
Heidi: The answers to your questions are yes, yes, and yes. It's actually all of the above. Sometimes a band member will come to a practice with a full musical piece written and we'll start working on it. Sometimes we just start jamming, until we come up with something we all like. Usually, we can then find lyrics previously written that fit the piece. A lot of songs start out with just a simple idea for the basis of a song that gets developed.
Toine: What's the response like of the press towards the album so far?
Heidi: We've been really surprised how wonderful most of the reviews have been so far. Obviously when creating music, you're always a little conscious if the public is going to receive it well or not.We of course do the music we do because we love it, but you never really completely know how people are going to respond to it, until it's out there. So far so good though!
Colleen: Indeed! I have been looking forward to reading the reviews and am very proud of the overall response.There's been some confusion in regards to whom is doing what on which song, which is understandable considering how many people are involved with the album. I know, that I was stepping in to some big shoes, following Karin's voice on the tracks that I performed on. I also know we sound nothing alike. That was my biggest fear, whether or not the change in the vocal sound and addition of more vocal arrangements would go over well with fans of the previous sound. Fortunately, Heidi and I have both been mostly received well and what I've really enjoyed learning is that the listeners are truly grasping what the album is all about and that there is a true appreciation for all the hard work and talent that went in to this album.
Toine: Were there any negative reactions as well, and if yes, how do you deal with negative criticism in general?
Heidi: Yes, we have had a couple negative reactions, but that's to be expected. Everyone is beautifully different as God intended and we don't all have the same tastes in music. Besides a little constructive criticism never hurts, if you can turn it into something useful. With each new CD we put out, we're going to try to make it even better than the last, so sometimes it's good to have a couple of negative responses to use as fuel for the next album. Of course you can't cater to everyone, so the most important thing is that you, the artist are happy with the music you're releasing.
Colleen: I remember reading the very first negative criticism of my music online many years ago and feeling just… worthless, you know? We put so much of ourselves in to this music we love, that it can be very hard getting negative feedback.At the same time, we are so wrapped up in it that we may not be able to see where an improvement can be made. Since that first 'incident', I've come to find constructive criticism an invaluable tool as an artist. Wouldn't say I look forward to someone not liking or getting what it is that I do, but I certainly learn from and appreciate it!
Toine: Who writes the lyrics for Persephone's Dream and where do you get your inspiration from?
Heidi: Rowen wrote most of the lyrics and says that he gets his inspiration from many places, including stories that he's written or situations that he's been in. Former Persephone's Dream singer Karen Nicely also. Rowen and Karin wrote the lyrics, because no one else wanted to do it at the time. On "Pyre of Dreams", there were a number of lyrical contributions made by other members of the band: Colleen Gray ("Threnody"), Steve Hogue - former member ("Soliloquy Of A King/Camlann"), DC Cooper and Rowen Poole ("Synethesia"), John Tallent, Kelly Fletcher ("Mist") - vocalist and percussionist on the "Pyre of Dreams" album, and Rowen Poole ("Nimiane") and Karen Nicely - former member ("Alien Embassy"). Rowen wrote all of the other lyrics on that album.
Colleen: Man, there were some really cool conversations about the lyrics before, during and after.All of the songs have great stories behind them, literally and figuratively. I touched on "Threnody" a bit earlier… Now, "Synesthesia" was another, that deserves mentioning. We'd been working on ideas for this song off and on for some time, and there was this one portion of the chorus, that needed just a little extra oomph to it. Rowen, his lovely wife Kelly and I would have these really amazing conversations 'til the wee hours of the morning almost every day I was their neighbor and guest, and on this one particular morning around 5am, I was drifting off to sleep after one chat fest and the rhythm for that part just hit me. Bam! Next thing I remember is sitting with Kelly at the kitchen table the next "morning" and almost psychotically brainstorming all these phrases with the right rhythmic pattern. They turned into the "Sensory Complexity", "Synesthetic Symphony" and "Sensory Cacophony" lines. That was one of the most fun brainstorming sessions I've ever had and I still have the sheet of paper.
Toine: What's your favorite Persephone's Dream song and why?
Heidi: Wow! That's a really tough question for me, because there's so many that I like for different reasons. If I had to pick just one though, I'd say it would have to be "Altar Of Desire" from Persephone's Dream's second album "MoonSpell". I really like that song, because when I first heard it, I was at a point in my life where I could really relate to a lot of the lyrical content. The song that I like to perform the most is "Endymion". Strobe has this amazing turn table, that spins and lights up with fog as I'm singing. I'm also wearing wings that fully open at the finale of the song as my voice enters the upper reaches of the soprano range. Strobe does a terrific job of making me look brilliant! Of course, I'm always terrified that I'm going to trip when I try to get off of it, but it's definitely worth the struggle.
Colleen: Heidi, I would hurl on the spinning table (lol). Don't know how you do it! I honestly can't choose one specific favorite song. From "Pyre Of Dreams", I'd have to say "Alien Embassy", "Nimiane" and "Threnody". "Threnody": immediately connected with the music and it was such a joy to write. "Nimiane": Gives me chills every time I hear it. Just some wonderfully moving performances by Kelly and Heidi and the melody is enchanting. "Alien Embassy" would be for the recording experience and my performance. Some very funny moments occurred and I was the most relaxed during that song. For previous albums, I'd have to say "Electronic Exotic" for the groove and "TV Talk Show", because it so freaking original.
Toine: On your website I saw a picture of a CD that has different artwork than the one I have here. Are there two different versions of your most recent CD, and if yes, what's the difference between them?
Heidi: Yes, there are two different versions of the CD. The idea behind this was to give our fans a choice of different artwork. Both the albums have the same songs on it, but two of the songs ("Soliloquy Of A Kind" and "Camlann") are reversed. One CD is with the lady of the lake version of those songs – female lead vocals - in the "Temple of Time" Mix and the King Arthur version (male lead vocals) is at the end of the CD on tracks 13 & 14. The other CD has the King Arthur version first and the "Lady of the Lake" version at the end.
Colleen: Also there are different artists behind the graphic design for each release. Colleen Hopper and Audre Vysniauskas. Hats off to these wonderful talents for helping add to the atmosphere!
Toine: Next, I would like to take a look at the 'thanks' lists inside your CD. Maybe you can comment on some of the names that I found there: John Talent thanks Steve Hackett, Bill Bruford, Kate Bush, Peter Gabriel, Phil Collins, Bette Midler and Ry Cooder. Maybe John can tell us a bit more about his fascination for Ry Cooder and Bette Midler? And can James Waugaman please explain, why Keith Emerson is such a special musician to him? And last but not least we also hope, that Colleen can give us more information about her thanking our national talent Marcel Coenen. And we also noticed the name of Jason Becker, of who we are very proud, that someone else still recognizes his incredible talent….
John Tallent: Mr. Ry Cooder was a peerless sideman for Captain Beefheart. In 1971 Ry Cooder released his first solo album, where he revolutionized the art of bottleneck guitar playing. He made it obvious that a major new rock virtuoso had arrived. Speaking of Bette Midler, this woman is a consummate entertainer. Her shows are just about perfect, much like Sarah Brightman except Bette adds a good bit of humor.
Jim Waugaman on Keith Emerson: I grew up in a household, where music was always around. My brother was a church organist obsessed with J.S. Bach, who also loved rhythm and blues hits, and my father played guitar, piano, and harmonica by ear, mostly country tunes. I started playing piano to play rock tunes, and really didn't like classical music at all. Then I heard Emerson, Lake, and Palmer for the first time, while I was listening to the radio on the beach in Florida one summer. The song was "Take A Pebble." As I lay there in the sun watching the seagulls, hearing the surf, I felt like I was having an out of body experience! I had never heard classical music blended so perfectly with rock n' roll and jazz! But I didn't realize that most of their music was borrowed from the classics like Bach, Bartok, Ginastera, and even the jazz greats. So, you could say that Keith Emerson is really the one responsible for me playing keyboards at all, and loving classical music enough to go to school for it. I should kill him! Just kidding! As far as I know he was the first to tour with a Moog synthesizer, and he was certainly the first person that I ever heard play one! Definitely, Keith Emerson put keyboard virtuosity on the map in rock music.
Colleen: I apologize in advance for the length of this response! Okay, where to begin with Marcel? I was blessed to have crossed paths with him a few years ago, when he was an active DJ over at Seismic Radio, where I eventually also started doing my own show and crossing paths with Rowen (hail Seismic!). I was quite familiar with SunCaged and was blown away at his humble, quirky and absolutely sweet disposition, especially considering the talent contained in the man. We quickly struck up an online friendship and at some point the discussions turned to the direction of where our loves for this music came from (he was a bit surprised at a US lady being so in to his kind of prog, hehe). Then I explained that I'd been turned on to this style with the introduction of early Queensryche and Yngwie, fell in love with it with the introduction to Fates Warning and mentioned that I was also a musician/songwriter. I guess, that piqued his curiosity and he asked if I wouldn't mind sharing a song or two with him. He decided to just go ahead and play one of the songs I forwarded to him, "Only I", sound unheard, live on his show! ::shock:: I'm sitting there in live time terrified that he's going to think I'm some kind of hack, and he ends up being impressed. (Woohoo!) Within a short time he approached me with the opportunity to work on his second solo project lending my voice, writing and piano skills. His plan was to write a piece for my voice and after a few hyper 'Valley Girl' squeals, a resounding "Hell Yes!!!!" and literally falling out of my chair, the journey to "Colour Journey" began. Another surprise came up, when he asked if I'd be interested in lending a hand on the heaviest track "Traumatized to the Bone", which was based on a (somewhat) true story of a man who'd been found on the beach in England, evidently having gone through an unknown ordeal and who would only respond to music and/or images of a piano. We based the lyrics on an article based on the man's story and I wrote the lyrics and melody lines for the chorus. This was my first cross-country collaboration and ended up with an invitation to both join Marcel and Friends for the release party and to open the show doing a solo set at the De Bosuil in Weert in January, 2006. One of the absolute best experiences of my life, for sure! Before actually setting foot upon Dutch soil, I was already quite enamored with your country (My mother always collected Gouda pottery and my husband is half Dutch). The week spent with Marcel, his lovely La Bella Mira and the incredibly kind people there, just about made me force our family to move! I am still in awe of the incredible aquatic engineering and beautiful terrain, not to mention the most amazing sunsets I have ever seen. Marcel took me on a stroll one evening through his home town, and I will never forget seeing the incredible architecture. So much history! I ended up hugging the doors to one of the great churches. hehe. Good times, good times. One of my strongest goals is to visit again and as often as possible. The love of music and the respect it is given in regards to education is truly something we here in America have lost sight of. It was incredibly refreshing to see so many people actively working on their craft, and to see such immense talent everywhere.
Now, in regards to Jason Becker… One of the lines in Synesthesia is a kind of homage to Mr. Becker ("Sensory Cacophony"). I remember freaking out on Kelly, when she popped up that suggestion during our brainstorming session for the chorus lines. Had to use Cacophony, just had to! I had recently begun being introduced to the Shrapnel style of shred through my then boyfriend/now husband, Todd, when I had the opportunity to see Cacophony live at Gazarri's in Hollywood (1989). Let me tell you… Becker and Friedman trading necks, Becker performing Bourrée in E minor on his lap ala Stanley Jordan… Those moments are forever ingrained in my mind and I truly feel blessed to have been able to see him perform in his prime, let alone getting the opportunity to spend some time with him after the show just chatting about technique and music in general. I still have the pick he gave me that night, only now I've turned it in to a necklace charm. For that kind of talent to be trapped by the body is such a tragedy, but Jason's spirit, drive and determination are sources of inspiration I draw from when those "I feel sorry for myself" moments creep up. If it were up to me, an entire night at one of the ProgPower festivals would be dedicated to Jason, with all of his colleagues paying homage to his talent, with him there.
Toine: How important is the internet for a band like Persephone's Dream and where can people find you?
Heidi: The internet becomes extremely important to any band looking to distribute their works and gain some kind of recognition. It is by internet that Persephone's Dream has received the world wide recognition that it has and the ability to market our product nationally and internationally. For those interested in learning more about us, our website is http://www.persephonesdream.com and we're also on myspace. Our CDs or songs from our CDs are available on many sites including Prog Rock Records, CD Baby, Amazon, and Prog 4 You & Sonic Cathedral.
Colleen: If not for the internet, I never would have become involved with any of the artists and bands I have been blessed to work with over the last 5-6 years, including Persephone's Dream. I never would have known how our music truly touches people and never would have been able to truly give something back to those who have influenced me the most. It's a blessing and a curse (what with leaks, trading and the inevitable insane person every now and then and all). In one very important way, the internet enhances what I think we love most besides the music itself… The connection, that happens through and because of it. I know, I connect with this style of music on a deeper level than most any else, for that I am very thankful for the internet. For some people out there to forget or completely disregard that people's time, money, blood sweat and tears go in to the creation of it is something that saddens me. Overall, I hope the pros end up out weighing the cons. And since you can't be reminded enough: http://www.persephonesdream.com and kudos to Ro on the geek side!
Toine: Heidi, do you have other hobbies or interests besides singing in Persephone's Dream?
Heidi: Well, that's funny you ask that. I actually just started taking belly dancing lessons from a friend, that teaches. I really love all different kinds of dance and would like to incorporate a lot more of it into future shows. I am also involved in Civil War Reenacting (I used to do it a lot more, but my free time has become much more limited than it used to be). Besides that, mostly I just like to go to movies, cook, read, travel occasionally, sing, and write music in my spare time. And for those of you who consider it a hobby, like many women, I love to shop!
Colleen: All things geek (work/hobbies include multimedia design, web design, scoring music for various projects, building and fixing computers, maintaining the Fates Warning online stuff), Ancient cultures and mythologies, dog training, teaching my little dude the art of sarcasm, the appreciation of good music and discussing all things Star Wars, reading good books whenever possible, baking and enjoying quality time with family and friends.
Toine: What can people expect from the live shows of Persephone's Dream?
Heidi: People can expect to be entertained as we are not only a band, but a show with many visuals, choreographed lighting, costumes, props, and sets thanks to Strobe and the help of many others. We also never do the same show twice, so there's always a surprise for our viewers.
Colleen: Visual imagery and audio delights designed to enhance the meaning behind the melody, all delivered through a tight-knit, incredibly talented group of artists giving every note, every nuance their all. Yeah, that about sums it up.
Toine: Do you use any show elements during your live gigs?
Heidi: Of course! We are all about "the show"!!!!
Toine: Do you play any covers on stage, and if yes, which covers do you play?
Heidi: According to Rowen, Persephone's Dream has only done one cover in its entire history – a version of Queensryche's "The Killing Words", that was to be used on a tribute CD release. It was never played live. We do original music.
Toine: With which bands did you share the stage already?
Heidi: Persephone's Dream has had the opportunity to share the stage with some really amazing and talented performers and bands. They include The Flower Kings, DC Cooper and Silent Force, Marcel Coenen, Evergrey, Pain Of Salvation, Joe Stump, Agent Steel, Mastermind, Jefferson Starship, Ion Vein, Reading Zero, Etheria, Zero Hour, and a lot of other great bands.
Toine: Are there any funny stories to tell our readers about things that happened on stage or during the touring?
Heidi: As a matter of fact there are some funny stories to share. One of them was at my first performance with Persephone's Dream. I had just finished singing "Endymion" and went back stage to change. The zipper on the dress I was wearing broke and was stuck. Kelly Fletcher (Rowen's wife/vocalist and percussionist on "Pyre of Dreams" album) was trying to help me get changed into my next costume for "Altar of Desire". We struggled for a few minutes, while J.T. was talking to the crowd. All of a sudden, I hear the guys start to play the intro to the next song. I start to panic. Kelly decided to just rip the dress to get it off. I finally get into my next costume, but the band is already half way thru "Altar of Desire" without me. (Thinking back, I probably should've handled myself a lot differently, but as I said before "Altar of Desire" is my favorite song and I just had to sing it!) I tell J.T. and John Lally from off the stage to watch me, because I'm going to cut them off, so we can restart the song. They both shake their heads 'yes' and say ok. I dance my way over to Ro, Jim and Scot and tell them the same and they nod their heads (even though I don't think they all quite understood what I said). I figured if I could pull this off right, it would all look like part of the show. Well, when I conducted the band to a halt, half of them stopped and the other half kept playing. I decided to try to cut them off again…….nothing……and again…..nothing. It was a total train wreck. After the band had finally finished the instrumental version of "Altar of Desire" and I had finished making a fool out of myself, I apologized to the audience for my wardrobe malfunction and said we wanted to do the song right, which we did that time. What's funny is that after the performance that night, everyone I talked to thought that whole display was part of our show anyway. I've decided that's what I'm going to tell people from now on, when something goes wrong…..it's all part of the show!
Rowen: Heh. One of the funniest stories was documented by Michael Gardiner in an article in Progression Magazine about the Flower Kings about six years ago. It involves our famous "Dream Thong" for the ladies.
Colleen: When I was fourteen, I had a wasp land on my arm during an outside performance rehearsal. I didn't notice it, until the kids in the front row started pointing and looking at me rather oddly. I look down to see these beady little eyes staring up at me and ended up blowing out a couple loudspeakers when I screamed into the mic. (Does that count? lol) Otherwise I'd have to mention Rowen's glorious "101 Seconds of Joy" creation, consisting of a fantastic arrangement of some rather hilarious studio outtakes.
Toine: With which band would you like to go on tour, if you could pick any band of your choice?
Heidi: How about the "New York Philharmonic"?! Even though, that's obviously not a band, I like the idea of prog rock played against the power of a whole symphony orchestra.
Rowen: Ozric Tentacles!
Scot: Renaissance.
JT: Peter Gabriel!
Jim: Renaissance.
Colleen: Fates Warning.
Toine: What was your most important gig so far?
Heidi: Every gig is extremely important to me and I always try to give 110%, but I know in the history of Persephone's Dream, Ro would argue that the most important gigs would be the two done at the Powermad festival in 2000 in Baltimore.
Toine: What's the rock and metal scene like in the part of America, where you come from? Are there many clubs where you can play live?
Heidi: Unfortunately, over the past ten years, many of the local live music venues have closed down. It seems like people around here don't go out to see live music like they once used to.
Rowen: We are pretty much unknown in our home town. Part of this is due to the fact that the local media (press, radio stations, etc.) ignore local acts (not just us). Part of it is the lack of live music venues.
Colleen: Sadly, this is also true for Southern California… Mind you, I'm not meaning a lack a venues, but the interest is just not what it used to be. Out here seeing bands within any type of a Progressive genre is a rare occurrence, simply because there really isn't much of a draw. I say we all move to Europe!
Heidi: I second that notion!!
Toine: Which other well-known bands come from the same area as Persephone's Dream?
Heidi: I grew up watching my father perform with a lot of the big Doowop groups of the 50's & 60's, that came from Pittsburgh. Some of them include Jimmy Beaumont and the Skyliners, The Vogues, The Four Coins, Del Vikings, and The Marcels. A couple of the newer bands, that recently became well-known are The Clarks and the country western band Poverty Neck Hillbillies.
Rowen: Very few well known bands have come from our area. A few, that have originate in our general area (say 150 km radius or so) include Poison, Nine Inch Nails, Chrissie Hynde & the Pretenders. That's about all I can think of off-hand.
Colleen: Isn't Christina Aguilera from around there also?
Heidi: She sure is!!
Toine: What are the future plans for Persephone's Dream?
Heidi: Definitely to keep writing, put out more CDs and perform as much as possible. We're going to continue to keep making our shows bigger and better also. We all have very high hopes! We've even been criticized as being overly ambitious, but we consider that to be a good thing!
Toine: We are an online 'zine(Metal Maidens) and our articles also appear at Sonic Cathedral, both of which completely focus on the female musicians in the hard rock and heavy metal music scene. Heidi, do you think that women still need this kind of attention or do you think that women already get all the recognition, that they deserve so much?
Heidi: A woman can never have too much attention unless it's the wrong kind of attention! Haha! Realistically though, I think until we can approach female-fronted bands in hard rock and heavy metal without the use of the words 'female-fronted', there is still a need to inform and bridge a gap. Your online 'zine is definitely a great start in making this happen!
Colleen: Amen to that, Heidi! To me, what would be ideal for us ladies is a level association, and I mean that going both ways. One thing I dislike seeing is an intentional disregard of the band members, if there's a chick behind the mic. She wouldn't be there if not for the band as an entity and it seems that this fact can be easily set aside for the glory of the cleavage. Before we had music videos, it didn't really used to matter if the performer was smokin' hot, if the song kicked ass and was played well. Does it hurt to be smokin' hot? Hell no!! I can enjoy being blown away by a woman's beauty up there on stage just as much as the next guy, but I also need to be blown away by her talent (like Heidi here for example, booyah!). Until those two become equally as important we're probably going to continue seeing 'female-fronted' before the word band. It is with your type of commentaries and editorials that these two elements are seen as equals, and for that all of us lovely ladies owe you immensely. Thank you!
Toine: Our 'zine, is based in Holland (or The Netherlands). What more do you know about our country besides the fact that we have beautiful windmills and colorful tulips here?
Heidi: Hmmm… Well, besides the clichés of wooden shoes (clogs), windmills, bikes, and flower fields, I know people in Holland primarily speak Dutch, you are below sea level, and although you are not a huge country, you have many beautiful cities filled with gorgeous landscapes. I'm embarrassed to say, that I don't know a whole lot more than that, but I would love to come and play many shows for all of you, so I could experience your country for myself. A great deal of support has come from the Netherlands, more so than any other place in Europe and I would be fascinated to learn a lot more about your country and it's people.
Rowen: One of my favorite bands is from your country, The Gathering. I personally, would love to visit your country and tour there with the band!
Jim: I should definitely mention that I am a huge fan of your famous Dutch keyboard/flute player Thijs Van Leer of the prog band Focus!!! I've listened to them since high school and they are still writing and recording great stuff! Thijs Van Leer is one of the few people that can still make a Hammond B-3 sing!
Colleen: Bitter Balls – yum! (For those whose minds occupy gutter space, they are a very tasty appetizer/snack food known properly as bitterballen) We can thank you for Vincent van Gogh, The Diary of Anne Frank, Heineken, Rutger Hauer, Eddie and Alex Van Halen, community bicycle programs, and Philips Electronics. Banana, cheese and tomato sandwiches are indescribably tasty! Yours is a constitutional monarchy with Beatrix Wilhelmina Armgard as the current Queen regnant. It is seemingly impossible to purchase a 20oz coffee in a convenience store. The architecture is amazing to behold… teeny tiny little doorways here and there accented by grand cathedrals and cobblestone streets – gorgeous! While visiting Amsterdam, I learned the hard way that pedestrians are not given the right of way and will be mowed down, if they don't stay alert. Chocolate sprinkles and/or white chocolate spread on warm bread are to die for.The new floating house boat technology is beyond amazing. Heineken truly does taste better out there!
Toine: Heidi and Colleen, do you also play any instruments, next to having a great singing voice?
Heidi: Well, first of all, thank you for thinking I have a great singing voice! I actually do play a little guitar to help in the music writing process. I also studied piano during my high school and college years, but I never did very well with it unfortunately.
Colleen: Piano, synth, organ, harpsichord, guitar, clarinet, saxophone, some flute and bass.
Toine: Did you have any singing lessons?
Heidi: I always knew ever since I was little that I wanted to sing. Coming from a family with two professional musicians, it's kind of hard to escape it. My parents started me with voice lessons when I was thirteen or fourteen, I think. I also took musical theater classes at the Pittsburgh Civic Light Opera. In high school, I was in choir and studied under Broadway performer Greggory Brandt. I also participated in an Opera Apprenticeship program at the Pittsburgh Opera House. I later went to Mercyhurst College to pursue opera under the wisdom of international opera singer Louisa Jonason. After graduating, I moved to New York City for a few years and was fortunate enough to coach with Metropolitan opera singer Mark Rucker, Nancy Stokes-Milnes, and Metropolitan vocal coach Charles Riecker.
Colleen: Formal lessons meaning one on one - once a week, no. I started singing around age four and was continuously in some form of chorus or group atmosphere from then until the end of high school. I had originally intended to go after a degree in music and wanted to teach, changing plans when an offer to accompany/coach the California Youth Chorale came along and I learned that almost all of the Creative Arts Programs in Southern California were going to be axed the next year. From that point on, my focus became more of working towards a writing and performing career, coaching some other vocalists along the way.
Toine: Are there any important gigs on the agenda for Persephone's Dream?
Heidi: We have a really big show/concert in May we're preparing for. It's at the Carnegie Music Hall near Pittsburgh, PA. We're going to be playing some of the pieces from our most recent album "Pyre of Dreams", as well as some new music that's never been performed. We have a lot of work ahead of us, but we're hoping it pays off. We also have a very special guest performer, Tiffany Apan.
Toine: Do you already have plans for a follow up album for "Pyre Of Dreams"? And if yes, what can people expect of this new material when you compare it to the sound of "Pyre Of Dreams"?
Heidi: We do actually. In fact, we've already begun writing some new pieces for the next album, which we're really excited about. There's even a couple of new mythical beings (Pan & Erato) making their way into the music. It's hard to say this early in the process what can be expected. For certain, we want the new material to still sound like Persephone's Dream, but be completely different than anything we've done in the past.
Toine: Will this new album become another concept album with a central topic?
Heidi: There is a pretty good possibility, that the next album will become another concept album and we do have a few ideas, but right now it's too early to tell.
Toine: Do you have any goals in life, that you would like to achieve, as individual or with Persephone's Dream?
Heidi: Absolutely! As I said before, we are constantly trying to make our shows bigger and better, but unfortunately that does take a bit of funding, especially when trying to go on tour with not only our instruments, but with all the sets, lights and everything else that a show entails. Our goal as a band for 2008 is to reach out and find the financial and artistic support we need to take our shows on tour (to many more locations) not only nationally, but internationally as well. Until we become a household name, that's going to take a bit of work, but we won't stop until we're playing in the same venues as Sarah Brightman and U2. There's an unbelievable energy that drives us and keeps us wanting more!
Colleen: Number one goal is to raise a decent little human being, and that is a constant work in progress. With Persephone's Dream my main goal is definitely performing live together. On my own end, musically, I would have to say: finally getting my first solo project finished and released, writing and/or recording a tune with Ray and finishing up my site redesign. Oh, and I seriously want to have a song in a Disney or Pixar flick!
Toine: Do you have any personal messages for our readers?
Heidi: Yes! I love you all for taking the time and being interested in me enough to read this whole interview! A BIG KISS FROM PERSEPHONE'S DREAM!!
Colleen: Thank you for helping keep the magic and the Dream alive!
Toine: Do you want to add anything to this interview? Maybe a last newsflash or something you just remembered? Maybe there is something we forgot to mention here, that is essential for the story of Persephone's Dream so far?
Rowen: (Just to clarify how we all ended up together in Persephone's Dream) At the time of Colleen's arrival into the "Pyre of Dreams" project, there were only two original members of the band left (myself and John JT Tallent). We were not sure, if we were ever going to do anything beyond finishing the album and releasing it. Hence, the title "Pyre of Dreams" (which by the way, was the original title for the piece entitled Camlann on the CD). When the vocals were done and I started mixing, I realized I needed some additional bass work done on the CD. I met John Lally via a local musicians board and he, in turn, introduced us to Scot Harvey and Jim Waugaman. By the time we finished adding and changing pieces on the CD, we realized we had a pretty decent band back together. I placed an ad online and Heidi answered. She's a perfect fit for what we do and has been with the band ever since.
Heidi: I wanted to say a few words about Jonathon "Strobe" Fleischman, without whom, we could not be Persephone's Dream. Strobe (along with the help of his father John Fleischman and wife Wendy Fleischman) has done a tremendous job with the staging, lighting, and all the special effects that go on during our shows. He is the genius behind our ideas as well as his own. That is why he will forever be considered a member of this band.
Colleen: Though my time out in Pittsburgh was relatively brief, it is time that I hold close to my heart now and always. Persephone's Dream truly is a wonderfully talented, righteously enjoyable group of people I am proud to have been given the opportunity to work with. I just want you all to know that.
Toine: The last words are for Persephone's Dream…..
Heidi: I just wanted to thank both Toine & Rita for wanting to feature Persephone's Dream on your online 'zine. Hopefully, one day I'll be able to meet you in person in the Netherlands, while we're on tour!
Rowen: Personally, I hope to visit your country, check out all the cool places and play many shows there for you all!
JT: Don't forget to keep your windows clean!
Scot: You must wear wooden shoes to read this interview. Those are the rules.
Heidi: OK, now I know you guys are nuts! (lol) Anyway, stay well and thanks again Toine and Rita!!
Colleen: Me applauds!
Interview questions by: Toine van Poorten/Metal Maidens January-February 2008.