The Jessica Prouty Band - CD Review
Set Me Free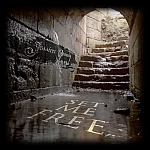 2013
Self-Released
United States
8 tracks
English lyrics
It's good to expand your tastes in music once in a while. We've done that here at Sonic Cathedral over the past couple years, covering hard rock, progressive rock, and edgy ethnic / world music in addition to the usual metal fare. So now it's time for some heavy modern rock courtesy of the Jessica Prouty Band. This quartet from Boston, Massachusetts have been together since 2007, when singer / bassist / namesake Jessica Prouty was only 14 years old. Fast-forward to 2013: Prouty and two of her bandmates are students at the prestigious Berklee College of Music, and the band have played close to 300 shows in Massachusetts and neighboring states since their early days. And with their upcoming third full-length album Set Me Free, the Jessica Prouty Band have found themselves on the verge of a massive breakthrough.
Although only eight tracks long, Set Me Free bursts with variety, spunk, and charisma. It shows that the Jessica Prouty Band have moved on their original teen-rock style (which they've described as "Evanescence meets Shrek") to one that's more diverse and mature. The new material swaggers with Southern rock flair with a blues base and crackles with the energy of hard rock and the spirit of punk. Some tracks feature additional instruments such as keyboards, pianos, and even a harmonica from producer Brian Maes (RTZ, Orion The Hunter). Despite the broad range of influences, the Jessica Prouty Band's music is incredibly tight and homogenous. Every band member gives stellar performances on Set Me Free, from Cody Nilsen and Aaron Shulman's elastic guitarwork and complementing backing vocals, to Cam Pelkey's drum gymnastics, to Prouty's youthful yet commanding voice. It truly sounds as though this group's been together for 6 years – and considering all four members are only in their late teens and early 20s, that's an astonishing feat.
The Jessica Prouty Band inject a ton of personality into Set Me Free's uptempo tracks. The title track is an excellent choice for the album's first single. If the listener's never heard of the Jessica Prouty Band before, "Set Me Free" will shatter their expectations. It's gritty awesomeness, with sludgy riffs, Prouty's stadium-filling vocals, and an exhilarating crescendo. "I Know" and "Stay" follow the same recipe without copying the title track. The former bristles with punk attitude as Prouty shrieks her accusations at a cheating boyfriend; the latter thumps and sways with sensual, Hammond-infused rock and another floor-pounding ending.
For the ballads and midtempo numbers on Set Me Free, the Jessica Prouty Band embrace their wide musical range. "Light This Place Up" throbs with that thick Southern rock vibe thanks to an old-fashioned slide guitar, funky piano-playing, and Maes showing off his harmonica chops. "Devastate" shows the band's metal side with murky riffs, a soaring chorus, and a dawning keyboard undercurrent. On the pop/rock side, "Sometimes I Wonder" drifts along a fine balance of fragile verses and a desperate, questioning chorus. "Take A Walk With Me" ends the record on a beautiful acoustic note, with Prouty sharing lead vocals with Nilsen. The music's simplicity brings out the summertime setting and delicate emotions told in the lyrics.
Set Me Free is such a fun ride that I hate to nitpick the parts I don't like as much. The only criticisms I have, however, are minor. For example, "Take A Walk With Me" seems to rush to its ending after the final chorus. An extra bar or two would let the listener linger in the song's breath-like atmosphere long enough to feel completely satisfied. And while I like "Sometimes I Wonder" and "Tired," I'd say they're my least favorite tracks on Set Me Free. They both lack qualities that other tracks on the album are ripe with. For "Sometimes I Wonder," it's that dose of character that makes it unique. And for "Tired," it's the arrangements. The midtempo, alternative grooves don't fit the album's overall sound as well as other tracks do. Yet, it's still a cool, foot-tapping number that gets stuck in your head, just as the rest of Set Me Free does.
It doesn't matter that the Jessica Prouty Band plays rock instead of metal. Sonic Cathedral's tagline may be "Where the women of metal rock!", but the women of rock music can rock just as well. Set Me Free is a fantastic example of that. It thrives with a guitar soul, killer drumming, a frontwoman with an electrifying presence, and the perfect blend of musical maturity and pop sensibility. On top of all that, it's got insanely good songs, some of which sound even better with the volume turned up high. If one band has the talent to reaffirm my faith (and maybe yours, too) in good mainstream rock music, it would the Jessica Prouty Band. That's why I urge anyone who likes what they've read here to check out Set Me Free as soon as it's released.
9 / 10
Highlights: "Set Me Free," "Stay," "Light This Place Up," "Devastate"
For Fans Of: Halestorm, Paramore, Evanescence, We Are The Fallen, and The Pretty Reckless
Set Me Free will be released later in 2013. Check the Jessica Prouty Band's Facebook page for more information.