CD Info
2013
Self-Released
United States
5 tracks
English lyrics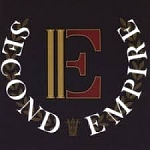 More female-fronted symphonic metal bands have emerged in the United States over the past couple years. Among those newcomers is Second Empire from Pittsburgh, Pennsylvania. This young quartet formed in 2011 and quickly made an impact in their local scene, from winning the first-ever Pittsburgh Rock Challenge in January 2012 to opening for Kamelot in September later that same year. And like every up-and-coming band, Second Empire hopes to start winning over a global audience. Their self-titled debut EP shows that, despite any inconsistencies, Second Empire exude talent, creativity, and potential.
During its 30 minutes, Second Empire pays homage to the band's many influences. Listeners will detect nods to Within Temptation, Nightwish, Evanescence, and other similar bands. Second Empire, however, have still managed to create their own style. They blend powerful guitars and layered rhythms with lyrical, lush keyboards and the sweet, pop-leaning vocals of singer Alex Lindsay Roth. At times, Roth reminds me of Charlotte Wessels (during Delain's Lucidity era) and Sharon den Adel, particularly when Roth reaches those airy high notes. Guitarist Ben Stark puts on quite the show with his skills. His solos also match the distinct tone of each track, from weighty and haunting ("Paradox Nightmare") to air-piercing swordplay ("Everlasting"). The EP itself benefits from the thick, professional sound mix by producer Christopher Lee Simmonds (thOught industry, Good Charlotte, Marcy Playground). He captures the complexity and nuances in Second Empire's music and laces the tracks together with ambient segues.
Second Empire's most three most concise songs show different aspects of the band's sound. The midtempo "Everlasting" takes off with bell-like keyboards, swaying riffs, and power metal tendencies. It's the ideal compromise between Within Temptation and Kamelot, with a colorful and astonishingly smooth result. Slowing things down, the power ballad "Sorrow My Savior" drips with melancholy from the sweeping orchestra arrangements and harp brushes. With "The Valley Beneath," however, Second Empire throw listeners a curveball. They close out the EP with a melodic alternative number instead of another symphonic-flavored one. It's pleasant, with Stark's and bassist Anthony Elliott's background vocals adding to the mythical feel. But without any keyboards, it doesn't fit in with the rest of the EP.
The other two songs on Second Empire are significantly longer than the others. "Paradox Nightmare" packs a lot into its 8 minutes: an extensive intro with echoing guitars, ghostly ad libs from Roth and ominous whispers throughout, and intricate piano and guitar solos. Its rollercoaster nature and various movements remind me of Diabulus In Musica's "St. Michael's Nightmare," an excellent tour de force in its own right. The single-worthy anthem "Hold Me ('Till We're Both Dead)" may be 6 minutes long, but its saccharine lyrics and melodies will stick in your head with just the first go-round. I have to admit, though, that "Hold me 'till we're both dead" is a really awkward line to find yourself singing along to.
Notice how I keep going back and forth between praise and critiques. That's because while I generally like Second Empire, a number of areas could use improvement. First, the songwriting is inconsistent throughout the EP. Some songs contain memorable melodies and hooks, while others don't. And while the variety of styles performed is impressive, it gives Second Empire a wandering feel. It's as though the band's trying to cast a wide musical net rather than finding an anchor style to start with and grow from there. Also, the EP's sound mix favors the heavier aspects of Second Empire's music. The guitars are thrusted forward as soon as they crank up, making it difficult to hear Roth or the more melodic elements at times. This is less noticeable on MP3 players and computers than on larger stereo speakers – but music should sound balanced when played on every kind of system, so it can be enjoyed in all types of settings equally.
But as I'd said, I do like Second Empire despite its flaws. It introduces listeners to a young band with interesting ideas and a whimsical and surprisingly expansive take (especially for a five-track EP) on melodic and symphonic metal. Each North American female-fronted metal band of either style has marked the scene with a unique stamp. Second Empire are no exception to this. Their EP is their first in what should be a set of stepping stones. And it's an ambitious first step. Give Second Empire more time and practice, and they might just grow into one of the most promising acts on this side of the Atlantic.
7.5 / 10
Highlights: "Everlasting," "Paradox Nightmare"
For Fans Of: Evanescence, Nightwish, Within Temptation, We Are The Fallen, Delain, ReVamp, Stream Of Passion
Second Empire is out now and can be purchased at iTunes, Amazon, and CD Baby. You can also stream four of the EP's five songs on Second Empire's ReverbNation page.