CD Info
2013
Ravenheart Records
12 Tracks
English Lyrics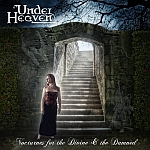 Every once in a while, I have the opportunity to listen to something that is outside of the norm and can't be classified into one genre of music. Most bands play it safe and create music that is not only too accessible, but feels like an all too sugary gumdrop that just can't be swallowed whole. However, the same cannot be said for Under Heaven's latest release titled Nocturnes for the Divine and the Damned. Most people who are familiar with the female-fronted symphonic rock/metal genre will be surprised to find that Toronto, Canada has a treat in store for you.
Under Heaven is not your typical band, as it only consists of two members- one super savvy composer and one great vocalist. Matthew Binks founded the band in 2006 and employed the lovely Tammy Everett as the vocalist to front the band. Listeners can expect to hear a wide range of music styles throughout the album and will be surprised by the unexpected turns that the music often takes. I was very curious to see how a band can blend classical, metal, rock, new age and Celtic music in a way that can appeal to a wide range of tastes, but still keep that gothic vibe. Fortunately, the release didn't fall short on that frontand due to its varied nature, this album can become a favorite for even the hardest of rock fans.
"Let's Play" is an ambitious opener for the album and starts out as a heavy rocking number, but slows down a bit throughout the track only to speed back up with a great guitar solo. Tammy's versatility shines through on this track by changing up the pace with operatic vocals and angry yells. "Inner Demons" is one of the catchiest songs on the album with music very similar to that of Within Temptation. It is a track that I can easily have stuck in my head on repeat with memorable hooks, and pretty dark lyrics with nice guitar work once again to complement it. "The Ghost I Am" is a moody piece set with the sounds of violin and thunder. Overall, it is a pretty light track with no guitar, just symphonic elements with the vocalist carrying most of the oomph. "Don't Hold Back" sounds eerily similar to something that wouldn't be amiss on an Evanescence album, but that's not really shocking considering the band clearly takes creative inspiration from many other bands. Following is "O' Sweet Claire" which has a lovely Celtic sound with considerably lighthearted lyrics describing a story of love and refusal. "Sinergy" and "The Tale" are more ballad oriented songs with dark symphonic elements and new age-y singing. "Day At The Races" starts out with calliope music and heavy guitars follow soon enough. If I were to vote for the second most memorable track on the album, it would easily be this one. "Nocturne In A Flat" is a beautiful classical piano piece and is instrumental in its entirety. A lovely piece to relax to after the blood pumping "Day At The Races". "Realm" is a beautiful song with meaningful lyrics and an airy feel matched with Celtic inspired flute music. "Indigo" is a track that also reminds me a lot of Evanescence and has a rocking vibe to it. The closing piece is titled, "Spiritscape" and it is a lovely number, something that wouldn't be out of place on a new age relaxation release.
The lyrics tend to edge towards the darker side of things. There are a few numbers such as "Day At The Races" and "O' Sweet Claire" that take a break from the flow of things. However, for the rest of the album, be prepared to venture into the dark void of regret, death, destruction, love, longing, despair, and the spirit world. I will gladly add that the lyrics on this album are not uplifting in any way, but they are real. You won't find any happy cookie-cutter moments with this release, but then again, isn't that what gothic music is about?
This is an enjoyable album that can hold its own in the symphonic rock/metal genre. The one weak point that the album suffered from is the production. Many tracks unfortunately sounded very demo-like and less than epic when they could've been. The vocals and the music behind it were layered in a way that prevented them from seamlessly blending together. That doesn't mean that overproduced is the way to go, but I feel that with a few tweaks in the production, the band can really stand up to the competition.
Overall, this album is a good effort from Under Heaven, but not the best it could be. There are many memorable tracks such as "Let's Play", "Inner Demons" and "The Ghost I Am". I do recommend any lovers of symphonic rock/metal, new age and classical music to check this release out. It has deep lyrics, a unique vocalist with great vocal delivery and a sound that hasn't been done to death before by other bands. For more information on the band, lyrics, and album samples check out the band's website.
8 / 10