Album: Resurrect Me
Artist: Pamela Moore
Genre: Hard rock
Total tracks: 10
Album length: 44:11
Language: English
Rating: 9 of 10


To most of the metal world, Pamela Moore will be known forevermore as "Suite Sister Mary", the tragic female lead whose mysterious death sets the wheels in motion for the series of events in what is considered one of the greatest concept albums in metal history: Queensrÿche's Operation: Mindcrime. Though her voice was only featured on one song, it left an indelible mark on the metal world. When she returned 18 years later for the sequel (Operation: Mindcrime II), Mary's death may have been solved, but it didn't lessen the need for fans to hear more from her distinctively stunning voice.
Pamela has been a solo artist since the early '80s; she has done everything from soul to alternative rock and everything in-between. Whether she was fronting the band Radar in the '90s, or striking out on her own in the mid-2000s with her solo album Stories From a Blue Room; Pamela always kept her fans on their toes, and never gave them the same thing twice. Perhaps this is why she was such an ideal fit for Queensrÿche and why their fans are so enchanted with her: Pamela's ability to change musical styles from one album to the next is a trait she shares with them, as they are also known as a band for being "progressive" in the truest sense of the word by never staying in the same musical niche, no matter how comfortable it might have been.
For all her musical offerings, however, those who were drawn to her through her metal-related contributions—be it through Queensrÿche or other projects such as Solna or Primal Fear—as large a role as she has played within metal music over the years, metalheads had never had the chance to hear what her music sounded like in a metal format. This would all change in 2013 after a 4-year hiatus, when she teamed up with guitarist Michael Posch to create the album Resurrect Me. Critics and fans alike were praising this as the album they had been waiting to hear from Pamela: everything one would expect from a metal album made by "Sister Mary".
Some familiar guests that appeared on Stories From a Blue Room even made a return to join her on this album; such as Jeff Loomis of Nevermore, and Ralf Scheepers from Primal Fear. A video was filmed for her single "Paranoia", showing off her "new" metal image. At last with the right components in place, Pamela was ready to go, and Resurrect Me was ready for the world.
The first track, "Acquiescent", opens up with some hypnotic guitar work before Pamela's voice drifts in; that familiar "teardrop in the vocal cords" that we all know so well from her tenure as Sister Mary. But then she really lets loose! The guitars are crunchy; the vocals alternate from moody to assertive. The guitar solo is as soulful as Pamela's voice. After some impressive high notes from Pamela, the song speeds its way to the end. A very nice opener to the album.
A sort of industrial-rock feel brings us into the second song, "Melt Into You". Then the band starts in and it gets really heavy. Some melodic guitar work segues to Pamela's voice, heartfelt and passionate. Some nice drum parts towards the middle of the song just before the guitar solo. This is a great song to headbang to!
Track three is the first single, "Paranoia", and it also begins with that steely, industrial vibe. Once the guitars kick in, this promises to be another song you'll be rocking out to. Pamela's voice is slow and seductive as it builds up; playing with different shades and nuances in the second verse. The break in the middle is very electronic and futuristic-sounding; blending nicely with the old-school guitar work. Pamela's inaudible whispering towards the end of the song only adds to the creepy mysterious vibe of the tune.
"We Are Damaged" starts off slow but jumps into some ripping guitars right off the bat! Pamela's voice is sultry as she sings of her intent to seduce her listener, which she does! She really belts it out in the chorus. This song reminds me a lot of Queensrÿche; I know, it's easy to lean on that comparison, but it really does. That is not a bad thing, by any means. Their signature sound has rubbed off on her, and this is exactly the song you might expect to hear from her if she had been Geoff Tate's replacement instead of Todd LaTorre. The break in the middle especially reminds me of the track "Lady Jane" from their Promised Land album. So far this song stands out as a favorite for me.
The title track, "Resurrect Me" begins with hauntingly beautiful acoustic guitar work and the ringing of bells. Pamela's voice is equally poignant and gorgeous. This is another song that is a favorite for me. There are some symphonic elements to the song as it breaks into a heavy gallop; Pamela's voice bearing that touch of tragedy that she's so well-known for, that makes her vocals so lovely and so compelling at the same time. Another stand-out track for me.
Some fuzzy guitar work opens up the sixth song "The Sky is Falling"; a very nice modern touch. Pamela's vocals chant their way through the verses as she gets ready for some more high notes. Ralf Scheepers of Primal Fear provides some nice, whispery background vocals on the song, as well as at the end. This track may possibly be a fan favorite; definitely one of those songs you can hear as being a crowd-pleaser at live shows.
"Awakening", the seventh track, starts off slow, but the guitars are no less heavy in its delivery. Pamela's voice is assertive here, building up in intensity as the song gets heavier. This is a great song to just get lost into; the feel of the song is slow yet heavy, and Pamela's voice just carries you as you drift off and let the heavy guitars melt into your consciousness. Just when you think you've wandered off into a dream, Pamela pulls you out with some heart-piercing (and glass-shattering) high notes just before the song takes you to the end.
The eighth song, "Breaking Down" is a lovely ballad with piano, gentle guitars, and Pamela's soft but strong vocals. It's a slow, beautiful song, and probably my favorite on the album. Just the crying notes of the guitar in the solo alone, coupled with Pamela's plaintive vocals, are enough to move you to tears.
The heaviness starts back up again as we're in the home stretch of the album; the ninth track, "Desperate by Design". With barely any time to recover from the gentle ballad from before, this song dives head-first into heavy riffing and Pamela's voice completely belting it out. The manic pace of the drums and frenzied guitar work only matches Pamela's intensity.
The final track is also the longest on the album; "Wide Awake (Phoenix Rising)" clocks in at a little over 6 minutes, and starts straight off as a heavy tune. There are some gothic/symphonic elements to the track as well. Pamela's voice is sultry and hypnotic from the start, breaking out into lovely high notes as we go on. For someone who likes long, epic tracks, this song satisfies that need for me just fine. I tend to think that the longer songs open up a visual landscape for the listener as they go on a sonic journey; whatever those visuals might be. You can almost see the phoenix rising from the ashes as Pamela's voice chants, "I am!", fading out and taking the song and album to their end.
Overall opinion: So for once, the critics were right. This was the album you expected from "Sister Mary" as a metal artist, and Pamela Moore did not disappoint. Not only that; her music is just as diverse as her voice, even when in a particular style. Whether it's straight-up rockin' tunes like "Acquiescent" or "Desperate by Design"; modern-day electronic or newer metal elements on songs like "Melt Into You", "Paranoia", or "The Sky is Falling"; enchanting symphonic harmonies like "Resurrect Me" or "Wide Awake (Phoenix Rising)", Pamela Moore's first metal offering has something for everyone. Her voice reels you in with its soft, delicate approach; and then pulls you down and takes you for a ride with her heart-wrenching high vocal delivery. If you have never had the pleasure to hear Pamela's voice before, then Resurrect Me is an ideal place to start, especially if you consider yourself a metalhead or one who prefers heavy music. Even if you have only heard her voice within the confines of Queensrÿche's conceptual world of Sister Mary, then Resurrect Me is the perfect opportunity for you to get acquainted with Pamela as a vocalist and as an artist. Because there is more to Pamela than just Sister Mary; everything from Operation: Mindcrime to Stories From a Blue Room has led to this. As a fan, this is just the album I always hoped she would make, and am so glad she has!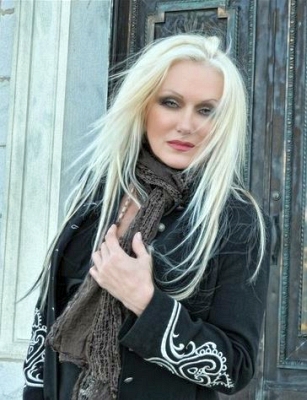 Resurrect Me now available in stores and online: May 14th.
Photos provided courtesy of Pamela Moore
Special thanks to Rat Pak Records: