Leaves' Eyes/Firewind - Live in Paris Divan du Monde – 9/25/12

I may be getting better at this whole going-to-concerts-outside-the-US thing, but I'm not sure I'll ever be able to understand why concerts in France start and end so much earlier than in the US, yet require missing dinner in the process (and yes, dinner at 11 pm is also a bizzare concept to me, yet I certainly saw people eating dinner after the show. Alas, to each their own…)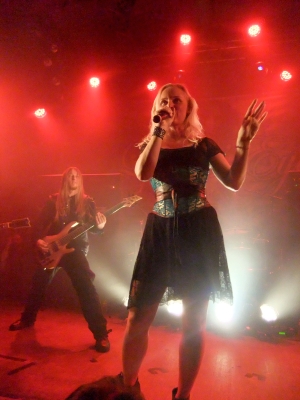 But of course, concerts (at least the ones I'd like to go to) also happen a lot more frequently in France than they do in the states. By the end of October I'll have seen more concerts in 6 weeks than I would have in a year back home! And I finally get to see Leaves' Eyes live, as my attempts to see them in the US have been foiled every time.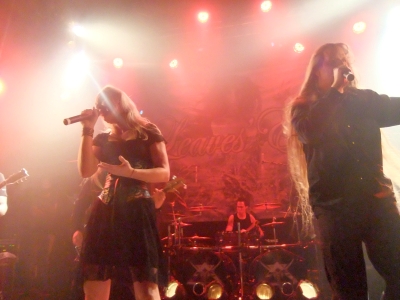 I'll tell you this, though. It was certainly worth the nearly five years of waiting. This band is phenomenal in concert, and I'd venture to say that Leaves' Eyes is even better live than on record, which is saying something, given I gave their last effort, Meredead, a perfect score in my review.

\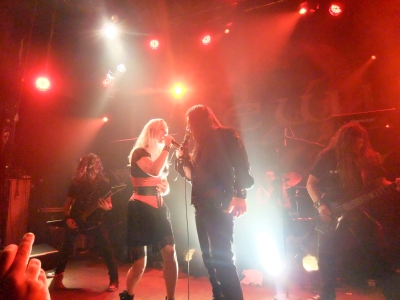 The band came out to cheers from the crowd during the intro to "Spirit's Masquerade," followed by the ever-enchanting Liv Kristine. She seems to have a very unique way of capturing the audience, which probably has something to do with her angelic voice and generally friendly demeanor. It didn't take long for the audience to become engaged in the music, clapping and shouting along with the music and even headbanging. Learning from my last foreign concert experienced, I held myself back a little, but there seemed to be no need, as some of the fans seemed just as excited as I was and weren't afraid to show their more energetic side. Even those that were seemingly at the show only to see co-headliner Firewind looked like they were having a good time. After "Velvet Heart," Alex joined Liv onstage for "Ocean's Way," one of my personal favorites. Though I generally dislike Alex's growling, his stage dynamic makes up for it tenfold, running all around the stage encouraging the audience to participate and making jokes between songs. He and Liv had an unmistakable chemistry on stage (for obvious reasons), and I think I now have a far better understanding of his role in the band. As engaging as Liv is, Alex brings the fun to the show, to some extent.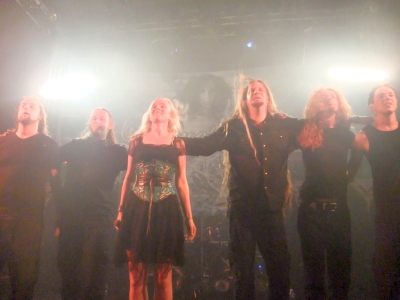 The band played songs from all four of their albums, but focused more on their last two releases, Njord and Meredead. This is understandable, given they only had one hour, but it would've been nice to hear at least one more old song, perhaps a classic like "New Found Land." Nonetheless, Leaves' Eyes played a good set to an excited crowd, and maybe even managed to win over some new fans!
Leaves' Eyes Setlist:

Spirit's Masquerade
Velvet Heart
Ocean's Way
My Destiny
Melusine
Emerald Island
Krakevisa
Take the Devil in Me
Elegy
To France
Froya's Theme
Mot Fjerne Land (outro)
Touring with Leaves' Eyes was a power metal quintet from Greece by the name of Firewind, whom I had never heard of before. Though I wasn't really sure what to expect, I was still excited, because no matter what the music, a good live band is a good live band. And a good live band they were! I wasn't really into their brand of classic, Judas Priest-influenced power metal, but I have to admit, this band was fun. They got the crowd going, and there was even a rather large mosh pit that stayed alive for most of the set. Inevitably, I found myself banging my head and singing along to some of the simpler choruses and having an overall great time. The biggest surprise, though, was Liv Kristine joining the band for a rockin' rendition of "Breaking the Silence," which turned out to be one of the most memorable moments of the night.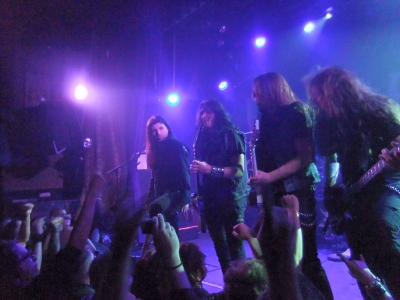 Firewind Setlist:

Wall of Sound
Head up High
Destination Forever
Few Against Many
Insanity
World on
Fire Fire & Fury
Losing My Mind
Mercenary Man
Angels Forgive Me
Glorious
Til the End of Time
I am the Anger
Tyranny
Into the Fire
Breaking the Silence (w/ Liv Kristine)
Falling to Pieces

I'll end this review by giving serious props to the venue, Le Divan du Monde, located a block away from the Pigalle metro station in Paris. At most concerts I've been to, the vocals and bass are often drowned out by the much louder guitars and drums, but here the sound of every instrument and vocalist came through crystal clear. Someone there clearly knows what they're doing when it comes to sound engineering. The place also makes a pretty good night club, if you're into that sort of thing.