Enchantya CD Review
Dark Rising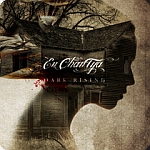 CD Info
2012
Massacre Records
13 Tracks
English Lyrics

I get so much promo material...I'm lucky for sure that I get promos to begin with because I get to listen to a lot of new up-and-coming stuff, but on the other hand, some of it just doesn't do it for me. I have spates of milquetoast discoveries, and so when I discover something that I think is really different, stands out, and makes me do an auditory double take, I get kind of excited. This happened when I listened to Enchantya for the first time.
Hailing from Portugal, Enchantya plays what they describe as progressive Gothic metal, and I think that's an appropriate label. They eschew more accessible verse-chorus-verse song structures and instead have a definite progressive element to their music, with songs that change tempo frequently and have more complex structures.
Their debut album, Dark Rising, to be released by Massacre Records September 28th, is impressive indeed, not just becuase this is Gothic metal the way it should be – a little more on the progressive side rather than the simplistic, poppy stuff some "Gothic" metal bands are putting out that are basically watering down the genre – but they really have a unique sound, too. Central to that sound are the vocals of Rute Fevereiro, who according to the band's web site, is self-taugh vocally. Though not a classical vocalist, she's definitely of the soprano persuasion, with a bit of aggression to boot. Her voice is sublime, and, if this album does for Enchantya what I hope it will do – launch them into the big times – she could easily become one of the top vocalists on the scene. She really is that good.
But it gets better. Also central to Enchantya's sound is the fact that about 80% of the vocals are sung in lush, gorgeous harmonies, so Rute does double duty. The result is an ethereal quality to the music you don't hear every day. In fact, this amount of harmonics isn't something you hear much of at all. One band that does it very well is the UK's Dyonisis (a band you definitely need to check out!) but they use two vocalists to achieve their sound. Rute is such a powerful and versatile singer that she pulls it all off flawlessly on her own. Oh, and there is a bit of beauty & the beast going on in here, and, what do you know, Rute also sings the beast parts, so she is actually doing triple duty! Luckily, there isn't too much B&B, which is nice because I'm not into tons of growling. The balance is very nice.
Also of note is the synth work, though I have no idea who performs that instrument because there isn't a keyboard player listed with the band right now, but there are a lot of beautifully done keyboard passages in here that stood out to me. Additionally, I thought the guitar work was excellent. Lots of crushing riff work and lots of great solos, just as there should be. Prepare to headbang a lot when you listen to this!
Dark Rising has many stand-out songs on it. Two of my favourites are the more pretty, ballady songs on the album, "Winter Dreams" and "Ocean Drops." Starting off with a great piano and guitar melody, "Winter Dreams" shows off Rute's sensitivity and the band's penchant for creating memorable, evocative, and catchy choruses. This is a great metal ballad with a lot of power, and again, those gorgeous vocal harmonies. "Ocean Drops" is a more mid-tempo tune but again it's powerful and atmospheric and catchy.
Other songs I thought stood out were "Longing For You" and "No Stars in the Sky" for which there is a YouTube clip, but in all honesty, there isn't a single filler track on this album and there isn't one track I didn't enjoy in some way.
I have listened to this album about seven times now and I think it's going to get a lot more play on my player in the future. If I had one small nitpicky thing to say about it it's that sometimes the mixing seemed a bit off; sometimes Rute's vocals got a bit drowned out by the other instruments and I had a hard time picking out the lyrics. But other than that small detail, I think this is a fantastic debut from a band with a unique sound and a very bright future.
9 / 10