Surely our readers at Sonic Cathedral have heard of MaYaN, the symphonic death metal project of Epica founder Mark Jansen. Anyone who owns a copy of MaYaN's album Quarterpast will also recognize the name Laura Macrì. Her operatic soprano voice graces the crushing tracks "Celibate Aphrodite" and "The Savage Massacre," and shimmers on the orchestral ballad "Essenza di Te." The 21-year-old Italian singer has also toured with MaYaN in The Netherlands, Belgium, and most recently Central and South America. What else do we know about Laura, though? Not much – which motivated us to pursue this interview!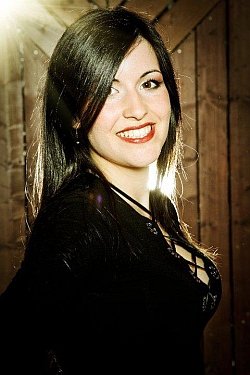 After Laura returned home from South America, Sonic Cathedral staff writer Sara Letourneau chatted with Laura about obvious subjects (Quarterpast and the MaYaN tours) and much more. How did Laura become an opera singer? What did she think of her recent visit to the ancient Mayan city of Iximche? And, our most burning question: Will Laura join MaYaN for their North American debut at ProgPower USA next September? Read on to learn more about this rising start in the opera (and metal) arena.
Sara: Hi, Laura! Thank you for taking the time to talk to Sonic Cathedral. You recently came back from MaYaN's headlining tour in Central and South America. How did that go?
Laura: It was a great tour, the best crowd of ever!
Sara: You also toured with MaYaN in The Netherlands, Belgium, and Germany earlier this year. I'm assuming you had never played with a metal band before then. So, how did you feel about those first shows?
Laura: I felt so emotional and exalted. I was a bit worried about the reaction of the public listening to my "opera voice" for the first time, but they made me feel relaxed screaming my name when I went onstage.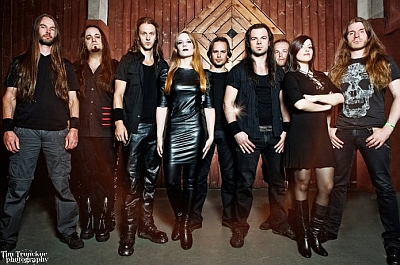 Sara: How did you become part of the MaYaN project? Did Mark Jansen approach you with the chance to sing on the album?
Laura: Yes, he did. I knew him already a few years before. When we met in a concert in Italy, he was curious to listen to my voice. So I sent him a link on YouTube that he made the rest of the band listen to. After that, they decided to ask me to join the project.
Sara: Did you know who Mark Jansen or Epica were before you worked on Quarterpast? Were you a fan of metal music before becoming part of the MaYaN project?
Laura: Yes, sure. I liked already the band Epica, and also Nightwish and Within Temptation. I always thought that opera and metal could be combined so well.
Sara: I understand that you wrote the lyrics for the song "Essenza di Te" on Quarterpast. What is the song about? And, whose idea was it for you to sing in the song in your native language?
Laura: The song is not a "main theme." It just talks about the sensations that this music gave me the first time I listened to it. I wrote the lyrics following the emotions, closing my eyes and imagining something. The idea to make me sing in Italian was both of Sasha [Paeth], our producer, and Mark. They thought that the best language for my lines was Italian, so we just keep it like that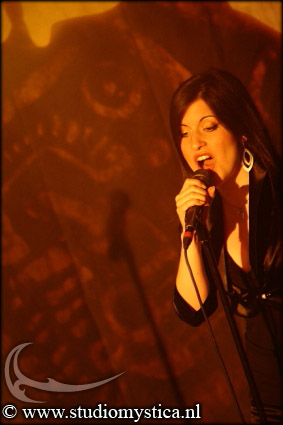 Sara: Floor Jansen and Simone Simons also took part in Quarterpast as well as MaYaN's tours. [Check out Laura singing with Floor and Simone on MaYaN's cover of After Forever's "Follow In The Cry."] What has been it been like to sing with two other extremely talented female singers who have had similar vocal training as yours?
Laura: That was a great opportunity for me to share the stage with such talented singers. They have been a bit my "metal teachers" onstage. For them to be there was normal. For me, it was all new.
Sara: While MaYaN was in Guatemala for the Latin American tour, you and the band visited the ancient Mayan city of Iximche. What was your reaction? Did it give you goosebumps to be in the heart of the world that inspired this musical project you've a part of?
Laura: We all had strong feelings [about it]. When we were driving, there was bad weather. But when we arrived, the sun started to shine. We could feel the positive energy of this place so full of mystery and culture. Somebody was also crying sitting there.
Sara: MaYaN will make its U.S. debut next September as part of ProgPower USA. All of the fans who will attend that show want to know: Are you planning to join MaYaN onstage for that special show? (Please say "yes"!)
Laura: Yes, I guess I will be there as well.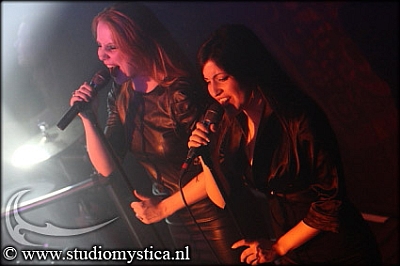 Sara: Let's get to know a little more about Laura Macrì the opera singer. Could you tell us a little about your history and some of your accomplishments so far?
Laura: The first time I listened to opera, I was 9 or 10 years old when my teacher at primary school made the children listen to a duet from La Bohème. I just fell in love, and after listening to Nightwish I wanted to train my voice in that way. So when I was 15, I found a teacher who prepared me for the exam to enter the conservatory, and one year after that I entered directly into the second class. In 4 years, I had my degree and I started to enter competitions, with good results. Last year, I won first prize in an international competition, and that was for me a big motivation to continue to study. At the moment, I go constantly to Paris to take lessons, and I continue to work in the opera world. I'm very satisfied with that.
Sara: Do you have a routine for practicing and exercising your voice? What do you do to keep your voice healthy?
Laura: Yes, I do. I train my vocal "muscles" 5 days in a week with special exercises that my teacher gave me. And I have 2 days of rest, because singing is like a sport. We need also to rest the muscles. Without technique and hard work, you can't keep your voice healthy.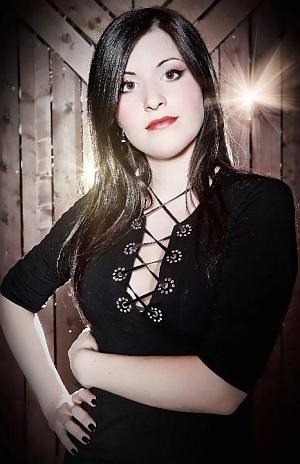 Sara: Which opera singers have been most influential for you? Why?
Laura: Maria Callas first of all, because she had a very special voice that was able to give me emotion that any other voice can't give me. At the beginning, nobody liked her voice and she had lot of critics. But in the end, she succeeded to be the best opera singer in the world. Other singers I like are Anna Netrebko, Anna Moffo, and Rolando Panerai.
Sara: When you and I were arranging this interview, you mentioned that you're working on an opera production. What is it called, and when and where will the performances occur?
Laura: I'm working in a production of the opera called Carmen from Georges Bizet. We will perform at Teatro Petruzzelli, the big theatre of Bari, [Italy], and with one of the best conductors, Lorin Maazel. The first show will be 20 January 2012.
Sara: If there was one famous opera you'd love to take part in one day, which one would it be? Why?
Laura: Lucia di Lammermoor or La Traviata, two of my favorite for the drama of the music and of the characters.
Sara: You've had the opportunity to work in two drastically different fields of music. Have you found any similarities between opera and metal that you hadn't noticed before?
Laura: As I said earlier, I already thought that the two types of music were similar. The pathos and the atmospheres are similar.
Sara: After participating on the MaYaN album, would you consider doing guest vocals for other bands in the future – or maybe start your own metal band?
Laura: I think so. If I will have the possibility, why not?
Editor's Note: Based on a recent Facebook photo, we can confirm that Laura is a member of the choir on Epica's next album, Requiem for the Indifferent, due out in March 2012!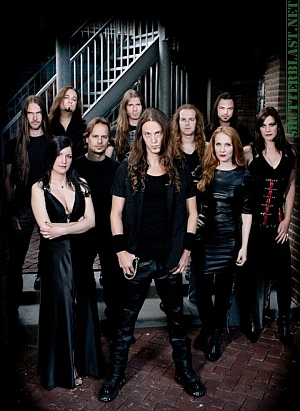 Sara: Grazie again for your time, Laura! In closing, what would you like to say to our readers at Sonic Cathedral?
Laura: Thanks to take time to read this, and thanks for your support! Keep rocking!
Thanks again to Laura for taking the time to talk to Sonic Cathedral! We wish you the very best with all of your musical projects, be them opera or metal!
Concert photos are courtesy of Natascha van Poppel of Studio Mystica.
Check out Laura's official Facebook page for updates on all of her projects as well as MaYaN's official website and Facebook page for all things MaYaN.