Sonic Cathedral Zine Main
Written by Robin Stryker
Monday, 02 May 2016
OTEP Interview
March 2016 (via Skype)


Early 2013 looked like it was going to be the end of the line for the California artcore band, Otep. Disillusioned by the music industry, Otep Shamaya announced that Hydra would be the band's final album. But after a three-year hiatus, Otep are back with a new album, Generation Doom, which is their first release through Napalm Records.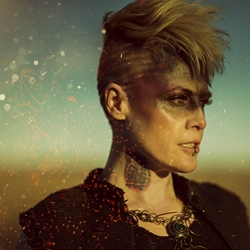 Read more...
Written by Robin Stryker
Monday, 25 April 2016
Walls of Jericho Interview
March 2016 (Via Phone)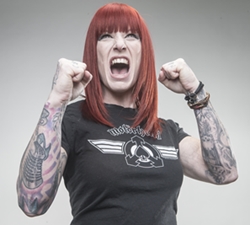 After an eight-year hiatus from the studio, the Detroit-based hardcore veterans, Walls of Jericho, are ready to splatter some marrow with No One Can Save You from Yourself. On the surface, the album is packed with throat-shredding screams, fist-pumping choruses, dual guitars that slash and blaze, and a rhythm section that will get your adrenaline racing. But beneath the almost visceral brutality, are lyrics fueled by loss, pain, outrage, and a shimmering kernel of optimism. No matter how bleak things may seem, it's a call to arms -- to be "Relentless" and continue to "Fight The Good Fight".
Read more...
Written by Robin Stryker

Wednesday, 30 March 2016

Delain Interview 2016
March 6, 2016 (live)

Delain have roared into 2016 with a frenzy of activity -- a special Suckerpunch show in the Netherlands to introduce their Lunar Prelude EP, a repeat appearance on the 70.000 Tons of Metal cruise, the release of the "Suckerpunch" video, and a fourth North American tour. All that, and we're barely two months into the new year! Folks catching Delain's current tour with Nightwish and Sonata Arctica might notice a couple of changes. Otto Schimmelpenninck is sitting out this tour to be home for the birth of his child. But there also is a new face on stage, that of guitarist Merel Bechtold. The on-stage guitar-dueling between her and Timo Somers adds to the exuberance of Delain's live shows.

Read more...

Written by Doctor T.

Saturday, 26 March 2016

Nightwish, Delain, Sonata Arctica
Live in Minneapolis
2/29/16

Read more...

Written by Doctor T.

Saturday, 19 March 2016

70,000 Tons of Metal
Femme Metal goes to Sea
Caribbean Cruise, Feb. 4 - 8, 2016

In the world of metal music, there are certain events that stand out each year. Wacken, in Germany is certainly one, there are other biggies. But, 70,000 Tons of Metal is certainly one of top venues on the planet. I mean, here's what we get: a 5 day cruise on a super cruise liner, leaving Ft. Lauderdale, Florida and heading south around Cuba from the east to Jamaica. Put into port for a few hours, then head back around the western part of Cuba back to Ft. Lauderdale. On the cruise are 60 of the top metal bands on earth, along with some 3,000 well healed metal heads from about 50 countries. You gotta love it. The music goes from about 10 in the morning until about 5 AM and, trust me, the bars are open and serving. If you love metal, this is pretty much Nirvana, complete with sun burn.

Read more...

Written by Robin Stryker

Friday, 04 March 2016

Oceans of Slumber Interview
February 2, 2016 (via phone)

Oceans of Slumber is a six-piece progressive metal outfit from Houston, Texas. When you hear "Texas", the first things that might spring to mind are blues rock, country music, and twanging guitars. But Oceans of Slumber's sound is more Opeth or Anathema, than ZZ Top. Check out the first two singles -- the title track "Winter" and "Suffer the Last Bridge" -- for a taste of what you're in for. The band's first full-length album, with newcomer Cammie Gilbert, behind the mic, will be released through Century Media Records on March 4, 2016.


Read more...

Written by John Thornburgh & SC Staff

Friday, 12 February 2016

Sonic Cathedral's Best Releases of 2015




2015 was another big year for female-fronted metal. Nightwish released their much-anticipated first studio album with new powerhouse vocalist Floor Jansen -- Endless Forms Most Beautiful -- and also launched a massive worldwide tour with other FFM bands including Arch Enemy and Delain. Arch Enemy also continued a major tour of their own in support of last year's War Eternal, further cementing Alissa White-Gluz's acceptance among fans as that band's new vocalist. Draconian also returned with a new vocalist, Heike Langhans, to great acclaim for their album Sovran, which is regarded among fans as just about flawless. Vicky Psarakis also received praise as the new vocalist for The Agonist. Familiar names also remained in the spotlight. Ex-Nightwish vocalist Tarja finally released her classical album, Ave Maria; Charlotte Wessels of Delain released an interesting new side-project, called Phantasma, which included her first published novella; and Within Temptation staged another big production, Black Christmas. Hopefully another WT DVD is in the works. And don't worry that Charlotte is too distracted from Delain; Delain has a new album this month, and they will soon be back on tour with Nightwish.


Read more...

Written by Robin Stryker

Wednesday, 14 October 2015

Bad Seed Rising - Interview
August 24, 2015 (via Skype)



Bad Seed Rising is a four-piece rock outfit from Baltimore (also known as Charm City) that has already checked off some damn impressive bucket list items. Youngest band ever signed to Roadrunner Records (home of bands like Rush, Dream Theater, and Opeth)? Yep, did that. Nationwide tours with some of the biggest names in the business? Yep, did that, too. Has a song on the soundtrack of a summer blockbuster? And yep, again. These rockers might all be teenagers, but that doesn't detract from their relentless dedication to music.

Read more...