Sonic Cathedral Zine Main
Written by Robin Stryker
Monday, 31 August 2015
Once Human Interview
by Robin Stryker July 30, 2015 (via phone)
Once Human is a new metal outfit from Los Angeles fronted by American-born/Australian-raised screamer, Lauren Hart. Originally, producer Logan Mader (ex-Machine Head, ex-Soulfly) intended to stay behind the scenes, and build the band around Lauren's vocals and guitar work. But their musical chemistry reignited his desire to take up his mighty flying V, after a 12-year hiatus from live shows. Once Human's debut album, The Life I Remember, will be released on 4 September 2015 via earMUSIC, a week after they begin their tour with Fear Factory.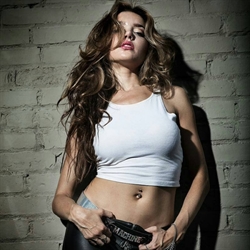 Read more...
Written by Robin Stryker
Wednesday, 12 August 2015
Leaves' Eyes Interview 2015
August 8, 2015 (via Skype)


Liv Kristine has a special place in Sonic Cathedral's heart, since she was one of our earliest interview guests. Back in 2003, we interviewed Liv at a time when her split with Theatre of Tragedy was still a raw wound; she and Alex were newlyweds; and Leaves' Eyes were a fledgling band that had not yet released an album. Now, 12 years down the road, Leaves' Eyes are on the verge of releasing their sixth studio album, King Of Kings (via their new label, AFM Records) and heading out for another European tour.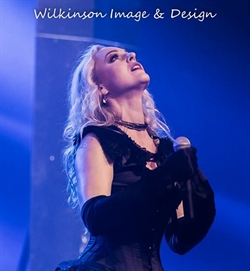 Read more...
Written by Ton Dekkers

Saturday, 22 August 2015

Dames of Darkness Day One @ Robin 2 Bilston (UK)
Saturday 9 May 2015

The jubilee edition of 'The Dames of Darkness' event (5th Edition) took place over two days on 9th-10th May 2015 at the excellent Robin 2 venue in Bilston, West Midlands (UK). The event starts outside the venue in the hotels nearby. There you already meet old friends and make new ones. A ride with some of those friends made the trip to the venue very easy and convenient. At arrival quite a number of usual suspect are present in front of the door. The various hands and/or hugs are great to start a festival.

Read more...

Written by Robin Stryker

Tuesday, 11 August 2015

Caterina Mix - Chaos Magic Interview
June 26, 2015 (via Skype)

Chaos Magic is the solo project of Chilean vocalist, Caterina Nix, and former Stratovarius composer and guitarist, Timo Tolkki, who wrote and produced the album to showcase Caterina's vocal talent. Those of you who have been following Timo Tolkki's Avalon Angels of the Apocalypse rock opera got an introduction to her voice on the tracks "High Above Of Me" and "Angels Of The Apocalypse", alongside Floor Jansen, Simone Simons, and Elize Ryd. Others may know Caterina as the vocalist of AghonyA, whose Oxygen album is a mighty nice slab of melodic metal.

Read more...

Written by C.

Friday, 07 August 2015

Sonic Cathedral 10 Year Top 10 Moments
A Reflection by C.



Time flies when you're having fun, and it's hard to believe that it's been 10 years already since I joined the staff at Sonic Cathedral. Things have changed a lot in that time; the scene has expanded far beyond what anyone could have predicted, and many of the bands that spearheaded the femme-metal movement are still going strong and still making an impact.





Read more...

Written by Angela Infernale

Tuesday, 28 July 2015

Rockharz 2015
Where: Ballenstedt, Germany
When: July 9th-11th
Who: See complete band list at end of the article




Once a year a field in a remote area of North-Eastern Germany turns into a little city of its own. Within a few days tents and stages go up, and in the end the place is teeming with black-clad creatures, more accurately named metal heads. Once arrived, one delves right into this bubble filled with like-minded people and treasured music. Rockharz Open Air has become a regular here on Sonic Cathedral, as I in particular am always drawn back there. This year, the stellar line-up and intimate atmosphere again lead to the festival selling out of all approximately 12,000 tickets well ahead of time. Presales for 2016 have started, and we can only recommend getting your tickets early.

Read more...

Written by Robin Stryker

Tuesday, 14 July 2015

Anaria Interview
May 28, 2015 (via Skype)






The Boston melodic symphonic metal band Anaria is bringing some welcome sizzle to the summer with their new EP, Seasons of the Mind - Volume One: Inception. Sonic Cathedral's Robin Stryker circled up with Jessica Mercy (vocals) and Chad Niles (guitars) for a free-wheeling chat full of randomness. Dive in for all the details on Anaria's new album, cosplay and nerdly delights, rocking the Con, and much more!

Read more...

Written by Doctor T.

Friday, 17 July 2015

A Femme Metal Band is Born
Mercy Isle, Madtown Underground Throwdown
VFW, Madison, Wisconsin - 5/27/2015




Well, to be sure, there were more bands than just Mercy Isle at the Madtown Underground Throwdown, but I was there primarily to see Kassandra and the boys for their first ever live performance. Fortunately, it was a beautiful day in southern Wisconsin for the event. That and the fact that they had cheap beer and brats at the VFW meant you couldn't ask for a better backdrop. My companion, Linda and I got there early, got to look at the fighter planes and troop transports before coming in to focus on the music.

Read more...