Written by Robin Stryker
Friday, 15 May 2015
Worhol Interview
March 2015 (via Skype)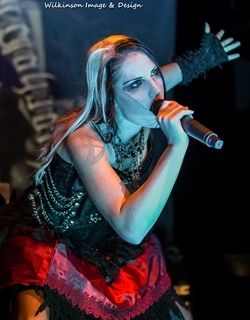 The father-daughter band, Worhol, first came to Sonic Cathedral's attention through our roving Jim Wilkinson, who caught one of their local Texas shows. He was swept up by their music and stage presence, so when their The Awakening debut hit the streets, we didn't waste any time in chatting with Ashley Worhol (vocals) and Larry Worhol (guitars) to find out more. Dive in for a behind the scenes look at The Awakening, Worhol's upcoming video, bouncing back when the inevitable tour disaster strikes, and much more!

Read more...
Written by Ton Dekkers
Friday, 08 May 2015
Lacuna Coil + Within Temptation + The Gentle Storm (+ more)
@ Paaspop Schijndel (Netherlands)
Friday 3 April – Sunday 5 April 2015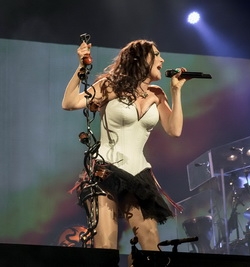 It was quite a while since I visited Paaspop. This opener of the Open Air Festival period is already a classic where for some it is more "You need to be there" than You need to go and see ...". I'm still in the category that goes to a festival for highlights in the line-up. In this case the ones mentioned in the title. Of course there were other interesting shows as you will read.
Read more...
Written by Robin Stryker

Monday, 20 April 2015

TEMPERANCE Interview
March 15, 2015 (via Skype)




Sonic Cathedral's Robin Stryker circled up with Chiara Tricarico (vocals) and Giulio Capone (drums) from the Italian melodic metal band, Temperance, shortly before the release of their second full-length album, Limitless. Dive in for a behind-the-scenes look at the band's new album, their upcoming British invasion, the passion that fuels their music, and much more!

Read more...

Written by Ton Dekkers

Friday, 24 April 2015

Battle Beast + Delain (+ Sabaton)
@ Melkweg Amsterdam (Netherlands)
February 2015




Some say a Sunday is not the right time for a big gig. The show in de Melkweg in Amsterdam proved that that is not correct. When arriving for the Heroes on Tour Europe 2015 of Sabaton (Sweden) with special guests Delain (Netherlands) and Battle Beast (Finland) I was happy that I get a quick pass through instead of having to wait in the enormous queue until Leidse Plein (passing the camouflaged tour bus). Doors opened at 6:30PM and there was loud cheering from the first people entering the venue. They still had to wait until 7:30PM for the first activity on stage but that didn't matter. The sold-out house made up for a big party.

Read more...

Written by Doctor T.

Friday, 27 March 2015

Mercy Isle Interview
Conducted live and via Skype at the Club Tavern
Middleton, Wisconsin
March 2015




Mercy Isle is a new music project in it's infancy from here in the state of Wisconsin and elsewhere. It had an interesting birthplace, one I think most of you will be familiar with. And, it is composed of some of my personal favorite musicians, in this country and elsewhere. A lot of other serious musicians are familiar with them too and have long appreciated their talent. I've been screaming both in person and in print for this project for a number of years as have others so no one is more excited about its potential than I am.

Read more...

Written by Doctor T.

Monday, 23 March 2015

Pamela Moore - Live at the Metal Grill
Cudahy, Wisconsin, March 5, 2015




Read more...

Written by Ton Dekkers

Friday, 06 February 2015

MFVF XII – Day 3
@ Oktoberhallen
Wieze (Belgium)




Day 3 started a little later than Day 2. That helped to be on time after another night partying. What happened there will not be revealed in the report, sorry. To be able to use the backstage entry is quite convenient as there were already people queuing for the doors. A good sign for bands and organizers. Not only the headliners need attention, you might see as one of the first a new great band.

Read more...

Written by Ton Dekkers

Friday, 13 February 2015

Serenity + Delain
@ Doornroosje Nijmegen (Netherlands)
Saturday 31 October 2014




The venue for tonight is the recently opened Poppodium Doornroosje. As it is in the city center almost next to the station, public transport was to way to go. The show was sold out, when arriving already a great crowd was waiting for the doors. As Serenity and Delain played more often together the "interest" of the audience is mixed. Clearly there were quite some fans that would have preferred Delain to be support. As regular visitor of gigs it's not that hard to wait as you see a great number of known faces of die-hard Female Fronted Metal fans.

Read more...