Sonic Cathedral Zine Main
Written by Doctor T.
Friday, 27 March 2015
Mercy Isle Interview
Conducted live and via Skype at the Club Tavern
Middleton, Wisconsin
March 2015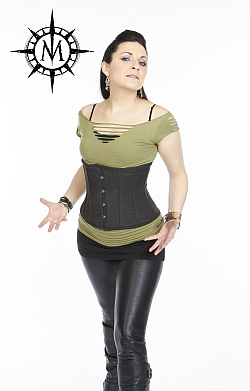 Mercy Isle is a new music project in it's infancy from here in the state of Wisconsin and elsewhere. It had an interesting birthplace, one I think most of you will be familiar with. And, it is composed of some of my personal favorite musicians, in this country and elsewhere. A lot of other serious musicians are familiar with them too and have long appreciated their talent. I've been screaming both in person and in print for this project for a number of years as have others so no one is more excited about its potential than I am.
Read more...
Written by Doctor T.
Monday, 23 March 2015
Pamela Moore - Live at the Metal Grill
Cudahy, Wisconsin, March 5, 2015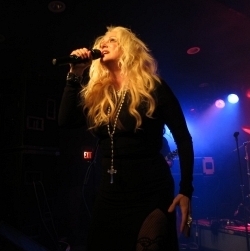 Read more...
Written by Ton Dekkers

Friday, 06 February 2015

MFVF XII – Day 3
@ Oktoberhallen
Wieze (Belgium)




Day 3 started a little later than Day 2. That helped to be on time after another night partying. What happened there will not be revealed in the report, sorry. To be able to use the backstage entry is quite convenient as there were already people queuing for the doors. A good sign for bands and organizers. Not only the headliners need attention, you might see as one of the first a new great band.

Read more...

Written by Ton Dekkers

Friday, 13 February 2015

Serenity + Delain
@ Doornroosje Nijmegen (Netherlands)
Saturday 31 October 2014




The venue for tonight is the recently opened Poppodium Doornroosje. As it is in the city center almost next to the station, public transport was to way to go. The show was sold out, when arriving already a great crowd was waiting for the doors. As Serenity and Delain played more often together the "interest" of the audience is mixed. Clearly there were quite some fans that would have preferred Delain to be support. As regular visitor of gigs it's not that hard to wait as you see a great number of known faces of die-hard Female Fronted Metal fans.

Read more...

Written by Ton Dekkers

Tuesday, 06 January 2015

MFVF XII – Day 2
@ Oktoberhallen Wieze (Belgium)




Although it was early after the partying I managed to get to the venue on time. As I could use the backstage entry, I didn't need to go into the queue in front of the doors. It was not bad there because the sun was shining. There were fewer people than I can remember from previous editions but still a nice number so early in the morning (10AM), great for the small bands that open the day. Being in the empty venue before the doors open, it's great to see the crowd getting in for a long day of Female Fronted Metal.

Read more...

Written by Robin Stryker

Monday, 05 January 2015

Triosphere 2014 Interview
(via Skype)




The snowy reaches of Trondheim, Norway is home to many fine metal bands, and the four-piece outfit, Triosphere, continues to stake its place within the flourishing music scene locally and internationally. Fans have had a long, four-year wait for Triosphere's third album, The Heart Of the Matter, but good things come to those who wait. The new album adds symphonic elements (sparingly) and a surprisingly tender ballad to the existing melodic power metal base layered with progressive elements and a strong rock sensibility. However, the heart Triosphere's sound remains the distinctive voice of Ida Haukland.

Read more...

Written by C. & Doctor T.

Wednesday, 31 December 2014

Femme-Metal: An Evolutionary Process




Femme-metal, like any other form of music, has undergone an evolutionary process; it didn't just appear in its current form from day one. There is even some difficulty in tracing the roots of femme-metal, and there is some ambiguity as to who the first artists were that set down the groundwork for what would ultimately become femme-metal. Unlike Black Sabbath, the undisputed forefathers of heavy metal, femme-metal's originators are not as easy to pinpoint. For one, it depends how far back in rock history one wants to go. For another, women in rock and heavy metal music have always had to fight for acceptance and respect; therefore it is more difficult to place where certain aspects of various genres began, considering that there were artists before who had to strive for their place in the rock hierarchy, leaving a lot of "unsung heroes" in their wake.

Read more...

Written by SC Staff

Thursday, 18 December 2014

Sonic Cathedral's Best Releases of 2014
Written by SC Staff December 2014




Introduction by John Thornburgh

2014 was an incredible year for female-fronted metal. There were so many excellent albums it was hard to keep up (and hard to pick just ten for my list)! We had releases from lots of big bands (Within Temptation, Arch Enemy, Lacuna Coil, Epica, Delain, and more), as well as many excellent releases from newer and less famous bands. The large number of releases is reflected in the diversity of picks by the different SC staffers. We all love female metal, but our favorites are different. In fact, with ten staffers submitting lists, we have nine different #1 albums! Only Delain gets the nod twice.

Read more...