Written by Robin Stryker
Sunday, 21 June 2015
Cradle of Filth / Unleash the Archers
(via Skype)


Well, this is a first for Sonic Cathedral. Instead, of Robin Stryker relentlessly tormenting bands with interview questions, we invited two very special guests -- Lindsay Schoolcraft (female vocalist and keyboardist of the British metal band, Cradle of Filth) and Brittney Slayes (vocalist for the Vancouver-based metal band, Unleash The Archers) -- to torment each other. Because Lindsay and Brittney hail from a country famous for having the world's most polite citizens, they cheerfully agreed to be our guinea pigs, but opted for a love-fest rather than a blood-fest.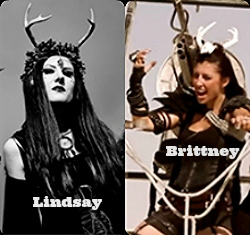 Read more...
Written by Robin Stryker
Tuesday, 26 May 2015
Sirenia Interview 2015
April 27, 2015 (via Skype)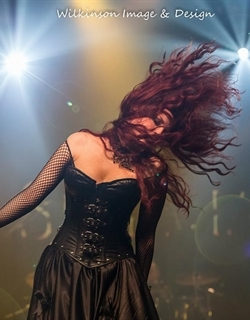 Sonic Cathedral's Robin Stryker had the opportunity for a long Skype chat with Sirenia's founder/composer/lead guitarist, Morten Veland, shortly before the release of The Seventh Life Path. Dive in for all the details on the album, the challenge of writing ballads, what Morten enjoys most (other than music), and much more!
Read more...
Written by Ton Dekkers

Tuesday, 02 June 2015

Epica + Xandria
@ Oosterpoort Groningen (Netherlands)
April 2015




The only Enigma Europe club show of Epica in the Netherlands was in Groningen. As Epica originates from Limburg (in the South) the location Oosterpoort in the North is according to Dutch "standards" a long trip. I don't know if it was the reason it was a long time ago Epica played there. For sure the VIP service provided by my sister-in-law in Groningen (she brought me to the venue and picked me up there to) made me go. And I'm happy I made the decision to go to Groningen.

Read more...

Written by John Thornburgh

Monday, 25 May 2015

Devilskin Live at the Whisky
May 5, 2015




I got hooked on New Zealand's Devilskin last year as soon as Sonic Cathedral's Robin Stryker introduced them to me. All of their elements – vocals, guitars, bass, and drums – stand out from the crowd to create a fresh and exciting sound. Jennie Skulander has a powerful clean voice but can switch to a fierce growl in a heartbeat. Guitarist Nail delivers high intensity leads and virtuoso solos, and I especially like his use of a metal slide on "Never See the Light." Meanwhile, bassist Paul Martin and his son Nic play a variety of compelling rhythms, from the funky "Little Pills" to the death metal double bass of "Elvis Presley Circle Pit."

Read more...

Written by Robin Stryker

Friday, 15 May 2015

Worhol Interview
March 2015 (via Skype)




The father-daughter band, Worhol, first came to Sonic Cathedral's attention through our roving Jim Wilkinson, who caught one of their local Texas shows. He was swept up by their music and stage presence, so when their The Awakening debut hit the streets, we didn't waste any time in chatting with Ashley Worhol (vocals) and Larry Worhol (guitars) to find out more. Dive in for a behind the scenes look at The Awakening, Worhol's upcoming video, bouncing back when the inevitable tour disaster strikes, and much more!


Read more...

Written by Ton Dekkers

Friday, 08 May 2015

Lacuna Coil + Within Temptation + The Gentle Storm (+ more)
@ Paaspop Schijndel (Netherlands)
Friday 3 April – Sunday 5 April 2015




It was quite a while since I visited Paaspop. This opener of the Open Air Festival period is already a classic where for some it is more "You need to be there" than You need to go and see ...". I'm still in the category that goes to a festival for highlights in the line-up. In this case the ones mentioned in the title. Of course there were other interesting shows as you will read.

Read more...

Written by Robin Stryker

Monday, 20 April 2015

TEMPERANCE Interview
March 15, 2015 (via Skype)




Sonic Cathedral's Robin Stryker circled up with Chiara Tricarico (vocals) and Giulio Capone (drums) from the Italian melodic metal band, Temperance, shortly before the release of their second full-length album, Limitless. Dive in for a behind-the-scenes look at the band's new album, their upcoming British invasion, the passion that fuels their music, and much more!

Read more...

Written by Ton Dekkers

Friday, 24 April 2015

Battle Beast + Delain (+ Sabaton)
@ Melkweg Amsterdam (Netherlands)
February 2015




Some say a Sunday is not the right time for a big gig. The show in de Melkweg in Amsterdam proved that that is not correct. When arriving for the Heroes on Tour Europe 2015 of Sabaton (Sweden) with special guests Delain (Netherlands) and Battle Beast (Finland) I was happy that I get a quick pass through instead of having to wait in the enormous queue until Leidse Plein (passing the camouflaged tour bus). Doors opened at 6:30PM and there was loud cheering from the first people entering the venue. They still had to wait until 7:30PM for the first activity on stage but that didn't matter. The sold-out house made up for a big party.

Read more...