Sonic Cathedral Zine Main
Written by Ton Dekkers
Saturday, 19 April 2014
Seventh Sin @ De Bosuil Weert (Netherlands)
Saturday 22 February 2014
When you receive an invitation for a CD release show it's hard to say No. When another already scheduled gig was cancelled I was happy to be able to visit the Seventh Sin CD Presentation of When Reality Ends. The venue was their "home base", a recently built youth center called de Bosuil (English Owl) in Weert (in the South of the Netherlands). This venue perfectly fit the situation, with a good stage, a size matching the number of visitors and a separate space for drinks and merchandise.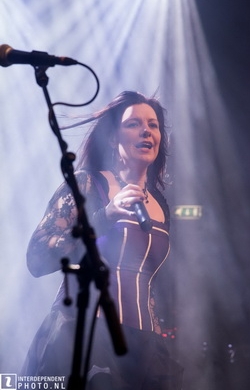 Read more...
Written by C.
Saturday, 12 April 2014
Leather Leone Interview

One of the most respected voices on the femme-metal scene, Leather Leone was a trailblazer for women who wanted to rock. Fronting the band Chastain, Leather was ahead of her time; among a small group of women who dared to take on the male-dominated metal scene of the 1980s and forge their own path no matter who stood in their way.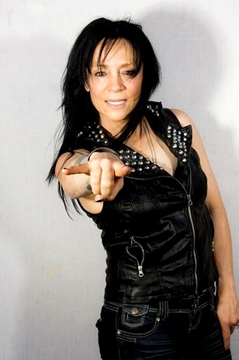 Read more...
Written by Robin Stryker

Monday, 07 April 2014

Diabulus in Musica Interview 2014
March 13, 2014 (via Skype)

Rebirth is PAINFUL -- more like standing at the crossroads of death, than a transcendent voyage of self-discovery. The Spanish symphonic metal band, Diabulus in Musica, found themselves at this crossroads in 2012, after the departure of their guitarist, bassist and drummer. Not surprisingly, the founding members, Zuberoa Aznárez and Gorka Elso, struggled with the decision whether to end the band or reform it. Thankfully for lovers of symphonic metal, Diabulus in Musica chose the path of rebirth, and their third studio album Argia was born out of the band's internal crisis. Despite its tempestuous origin, Argia is neither a self-pitying dirge nor a shrill rant. Instead it is a beautiful slab of metal that is filled with warmth and passion.




Read more...

Written by Ton Dekkers

Friday, 28 March 2014

Stream of Passion Interview 2014
Performed in Person

Stream of Passion will bring out a new album on April 18, 2014. It will be presented to the world at the CD presentation show in Bibelot (Dordrecht, NL). Almost a year ago "we" (John Thornburgh and me) did an interview with vocalist Marcela Bovio for Sonic Cathedral. In that interview there were some hints about a new album and that Stream of Passion was looking for ways to realize that. I still can remember (and read) that I mentioned crowd funding as an option. Marcela said at that time that that might be an option. Now we know that it was the chosen and successful option. The album A War of Our Own is ready for release.





Read more...

Written by Christopher Backeberg

Thursday, 27 March 2014

Interview with Marta Gabriel
February 2014




Christopher Backeberg completely flipped when he reviewed Possession, the newest album by Crystal Viper. He couldn't stop enthusing about Marta Gabriel, the power, inspiration and voice of the band, the new album and the other Crystal Viper albums that came before Possession.





Read more...

Written by Robin Stryker

Tuesday, 11 March 2014

Delain 2014 Interview
by Robin Stryker February 27, 2014 (via Skype)

What a difference two years makes! The last time I had the pleasure of interviewing Delain in February 2012, things were not exactly rosy. The Warner Music Group pulled the plug on We Are The Others, just months before a scheduled European tour. But in the finest metal fashion, Delain persevered -- encouraged by a massive outpouring of support from fans around the world -- and has racked up an impressive list of accomplishments during the intervening two years, including the release of both We Are The Others and the EP Interlude, being signed to metal powerhouse Napalm Records, and their first North American tour.




Read more...

Written by Max Levites

Friday, 07 March 2014

Hottest Chicks in Hard Rock Tour 2014
Live at Irving Plaza, NYC – 2/24/14

No doubt many of us, including myself, have our own qualms about the moniker "hottest chicks in hard rock," but nevertheless, when the lineup for this year's version of the aforementioned tour was announced, I couldn't help but be a little excited. I wasn't too familiar with the headliner, Sick Puppies, but words cannot express my love for Lacuna Coil, so there was no way I could pass up a chance to see them again. On top of that, I've known and even sometimes enjoyed the music of Eyes Set to Kill for years now, and was a fan of the band Cilver as their previous incarnation, MeTalkPretty, for a few years now as well. And then I find out that my favorite NYC-based band Charetta would be opening the show, so there was no way I was going to miss such a promising lineup. And so I dragged a friend up to New York with me for the day to enjoy a night of great music, and enjoy it we did!




Read more...

Written by Ton Dekkers

Tuesday, 04 March 2014

Cradle of Filth + Behemoth
Poppodium 013 Jupiler zaal Tilburg (Netherlands)

On an ordinary Tuesday quite a number of metal heads gathered at Poppodium 013 to enjoy a mini-festival with co-headliners Cradle of Filth and Behemoth. The published time schedule was correct, although it was said that Cradle of Filth and Behemoth might change sequence. Jupiler, the large stage of 013, was filled very well when the headliners started to play. The start was quite early (doors open at 5pm) on a working day. That was visible in the limited number of visitors for the first band. Anyway it got better over time. The crowd was enthusiastic but a little quiet as Dani Filth (Cradle of Filth) said during his gig. Maybe it's because of Tuesday, shortly after a weekend and with the new weekend still far away. After his request to make some more noise, the energy improved and with Behemoth it got to a more weekend level.




Read more...