Sonic Cathedral Zine Main
Written by Robin Stryker
Tuesday, 11 March 2014
Delain 2014 Interview
by Robin Stryker February 27, 2014 (via Skype)
What a difference two years makes! The last time I had the pleasure of interviewing Delain in February 2012, things were not exactly rosy. The Warner Music Group pulled the plug on We Are The Others, just months before a scheduled European tour. But in the finest metal fashion, Delain persevered -- encouraged by a massive outpouring of support from fans around the world -- and has racked up an impressive list of accomplishments during the intervening two years, including the release of both We Are The Others and the EP Interlude, being signed to metal powerhouse Napalm Records, and their first North American tour.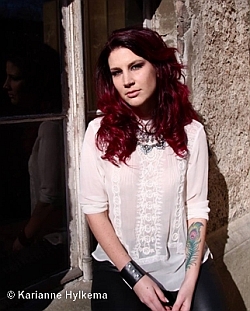 Read more...
Written by Max Levites
Friday, 07 March 2014
Hottest Chicks in Hard Rock Tour 2014
Live at Irving Plaza, NYC – 2/24/14
No doubt many of us, including myself, have our own qualms about the moniker "hottest chicks in hard rock," but nevertheless, when the lineup for this year's version of the aforementioned tour was announced, I couldn't help but be a little excited. I wasn't too familiar with the headliner, Sick Puppies, but words cannot express my love for Lacuna Coil, so there was no way I could pass up a chance to see them again. On top of that, I've known and even sometimes enjoyed the music of Eyes Set to Kill for years now, and was a fan of the band Cilver as their previous incarnation, MeTalkPretty, for a few years now as well. And then I find out that my favorite NYC-based band Charetta would be opening the show, so there was no way I was going to miss such a promising lineup. And so I dragged a friend up to New York with me for the day to enjoy a night of great music, and enjoy it we did!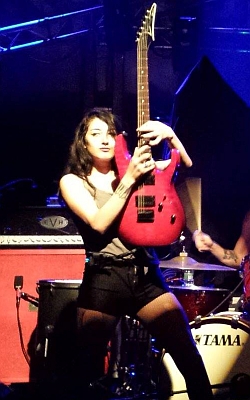 Read more...
Written by Ton Dekkers

Tuesday, 04 March 2014

Cradle of Filth + Behemoth
Poppodium 013 Jupiler zaal Tilburg (Netherlands)

On an ordinary Tuesday quite a number of metal heads gathered at Poppodium 013 to enjoy a mini-festival with co-headliners Cradle of Filth and Behemoth. The published time schedule was correct, although it was said that Cradle of Filth and Behemoth might change sequence. Jupiler, the large stage of 013, was filled very well when the headliners started to play. The start was quite early (doors open at 5pm) on a working day. That was visible in the limited number of visitors for the first band. Anyway it got better over time. The crowd was enthusiastic but a little quiet as Dani Filth (Cradle of Filth) said during his gig. Maybe it's because of Tuesday, shortly after a weekend and with the new weekend still far away. After his request to make some more noise, the energy improved and with Behemoth it got to a more weekend level.




Read more...

Written by Émilie Garcin

Sunday, 02 March 2014

Tarja Turunen
@Lyon FR (06/02/2014) & Vevey, CH (15/02/2014)

After more than two years, Tarja was finally back in Lyon as part of her promotion of her latest album Colours in the Dark. This time, she was once again playing in Le Transbordeur venue, and the band support was the French band Elyose, who not only opened all Tarja's concerts in France, but also in the Netherlands and in England.




Read more...

Written by Ton Dekkers

Sunday, 02 March 2014

Therion (and others) – Metal Meeting
@ Effenaar Eindhoven (Netherlands)
Saturday 14 December 2013

For me the first day of the Metal Meeting Eindhoven, for quite some visitors already the third day full of Metal. This event started in 2009 as a single day event using both stages of the Effenaar. It has now grown to a three day event with almost 50 unknown and well-known bands. Like always the number of female fronted bands is limited at this kind of festival. In total 4 female fronted bands were scheduled. Izegrim (NL) was playing on Thursday and on Saturday Arkona (RU), Asrai (NL) and Therion (SWE) played. The last is not female fronted in the full sense but the female singers play a significant role in the show.




Read more...

Written by Various SC Staff

Saturday, 01 March 2014

Within Temptation – Hydra Release Events
Written by John Thornburgh, C., and Justin Boyer

Since it has been a while since Within Temptation last played the U.S., it came as a happy surprise when the band announced in January that they would host release parties for their new album Hydra in Los Angeles and New Jersey (near New York City). Three members of the Sonic Cathedral staff jumped at the opportunity (and more wished they could). Details of our adventures follow…




Read more...

Written by Lauren Hughes

Monday, 24 February 2014

Maria Brink of In This Moment

In This Moment first caught my attention in 2010. I had talked to someone at a show, who went on and on about the In This Moment show they had been to, and it encouraged me to look into them. I loved their music from The Dream, and Beautiful Tragedy quickly grew on me. I was never into much screaming in music. I still am very selective about which bands I enjoy when it comes to screaming (or growling). Not long after I decided I really liked In This Moment, they released A Star-Crossed Wasteland, and by the end of 2010, I saw them perform live for the first time. Since then I have been hooked on them and their performance.




Read more...

Written by Ton Dekkers

Sunday, 23 February 2014

Ex Libris – CD Release Show @ W2 Poppodium Den Bosch (Netherlands)
Saturday 18 January 2013

The moment of truth for Ex Libris. The first official show playing the new Album Medea live. OK there was a try-out on January 10, but this was the official CD presentation gig.




Read more...