Written by Robin Stryker
Wednesday, 14 October 2015
Bad Seed Rising - Interview
August 24, 2015 (via Skype)


Bad Seed Rising is a four-piece rock outfit from Baltimore (also known as Charm City) that has already checked off some damn impressive bucket list items. Youngest band ever signed to Roadrunner Records (home of bands like Rush, Dream Theater, and Opeth)? Yep, did that. Nationwide tours with some of the biggest names in the business? Yep, did that, too. Has a song on the soundtrack of a summer blockbuster? And yep, again. These rockers might all be teenagers, but that doesn't detract from their relentless dedication to music.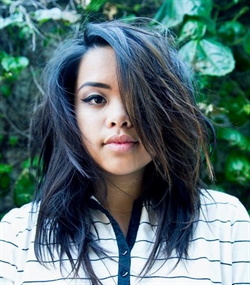 Read more...
Written by John Thornburgh
Monday, 28 September 2015
The Iron Maidens - Live in Anaheim
September 6, 2015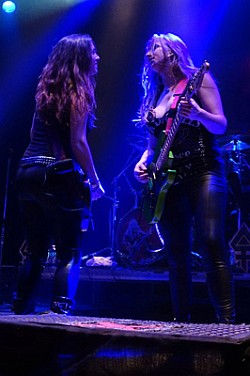 Read more...
Written by Robin Stryker

Monday, 31 August 2015

Once Human Interview
by Robin Stryker July 30, 2015 (via phone)

Once Human is a new metal outfit from Los Angeles fronted by American-born/Australian-raised screamer, Lauren Hart. Originally, producer Logan Mader (ex-Machine Head, ex-Soulfly) intended to stay behind the scenes, and build the band around Lauren's vocals and guitar work. But their musical chemistry reignited his desire to take up his mighty flying V, after a 12-year hiatus from live shows. Once Human's debut album, The Life I Remember, will be released on 4 September 2015 via earMUSIC, a week after they begin their tour with Fear Factory.

Read more...

Written by Robin Stryker

Wednesday, 12 August 2015

Leaves' Eyes Interview 2015
August 8, 2015 (via Skype)



Liv Kristine has a special place in Sonic Cathedral's heart, since she was one of our earliest interview guests. Back in 2003, we interviewed Liv at a time when her split with Theatre of Tragedy was still a raw wound; she and Alex were newlyweds; and Leaves' Eyes were a fledgling band that had not yet released an album. Now, 12 years down the road, Leaves' Eyes are on the verge of releasing their sixth studio album, King Of Kings (via their new label, AFM Records) and heading out for another European tour.



Read more...

Written by Ton Dekkers

Friday, 04 September 2015

Dames of Darkness Day Two @ Robin 2 Bilston (UK)
Sunday 10 May 2015

Curious on what day two would bring (for me: 5 unknown and 2 known bands) I was early at the venue. Just like quite some die-hards. Not all looked that fresh. The doors opened on time. Getting in the sound of the first band could be heard. After some confusion I learned the sound check was still in progress. It looked like others suffered from the night before and had a hard time to get started.

Read more...

Written by Ton Dekkers

Saturday, 22 August 2015

Dames of Darkness Day One @ Robin 2 Bilston (UK)
Saturday 9 May 2015

The jubilee edition of 'The Dames of Darkness' event (5th Edition) took place over two days on 9th-10th May 2015 at the excellent Robin 2 venue in Bilston, West Midlands (UK). The event starts outside the venue in the hotels nearby. There you already meet old friends and make new ones. A ride with some of those friends made the trip to the venue very easy and convenient. At arrival quite a number of usual suspect are present in front of the door. The various hands and/or hugs are great to start a festival.

Read more...

Written by Robin Stryker

Tuesday, 11 August 2015

Caterina Mix - Chaos Magic Interview
June 26, 2015 (via Skype)

Chaos Magic is the solo project of Chilean vocalist, Caterina Nix, and former Stratovarius composer and guitarist, Timo Tolkki, who wrote and produced the album to showcase Caterina's vocal talent. Those of you who have been following Timo Tolkki's Avalon Angels of the Apocalypse rock opera got an introduction to her voice on the tracks "High Above Of Me" and "Angels Of The Apocalypse", alongside Floor Jansen, Simone Simons, and Elize Ryd. Others may know Caterina as the vocalist of AghonyA, whose Oxygen album is a mighty nice slab of melodic metal.

Read more...

Written by C.

Friday, 07 August 2015

Sonic Cathedral 10 Year Top 10 Moments
A Reflection by C.



Time flies when you're having fun, and it's hard to believe that it's been 10 years already since I joined the staff at Sonic Cathedral. Things have changed a lot in that time; the scene has expanded far beyond what anyone could have predicted, and many of the bands that spearheaded the femme-metal movement are still going strong and still making an impact.





Read more...